---
Here at Predictive Success we take a lot of pride in providing tools that make a real difference and one of our favorite tools is books. We believe in the credo that those who want to lead, read and these two books will help make you a better leader.
---
A practical guide to finding the perfect member for your team.
Written by our founder David Lahey, Predicting Success is a must read. We think the best way to read it is with a pen in hand, ready to take notes. There are so many useful ideas here and you will want to remember the ones that make the most sense for your business.
In it, David shows how to apply the principles and tools of human analytics to the workplace. He illustrates how you can avoid bad culture fits, mismatched skillsets, entitled workers, and other hiring missteps that drain the team of productivity and morale.
As a human analytics specialist who applies these principles daily, Dave has sheds light on how bad hires affect outcomes on the individual and organizational level, and can potentially hinder progress long after the situation has been rectified. Predicting Success is a guide to avoiding that by integrating analytical tools into the hiring process from the start.
Predicting Success makes a compelling case for diverting resources to the hiring process before the wrong decision is made. Anyone who is still uncertain about the bottom-line value of analytic hiring practices will be interested in the hard evidence presented in this book.
---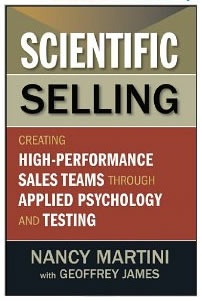 Products don't sell themselves
Another book we recommend is Scientific Selling by Nancy Martini. Packed with information that can be used today, it shows how to put the science of sales analytics into practice.
To help make this potentially difficult subject easy to understand, Scientific Selling includes more than a dozen specific case studies demonstrating how scientific measurement improved overall sales performance through graphics, charts, and descriptions. It details how those teams were measured and how the metrics changed as the result of better hiring practices, targeted coaching and sales training.
An essential read for all sales leaders, Scientific Selling shows how statistically valid measurement can improve every element of the sales environment—from management to coaching to training to creating long-term sustainable sales results.