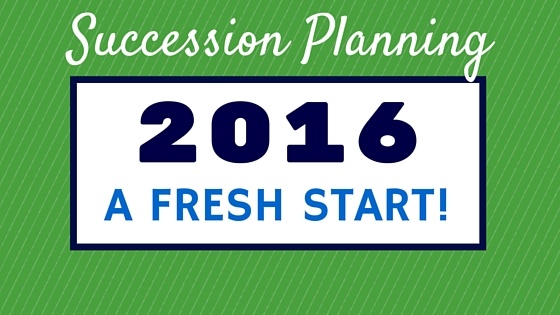 The start of a new year is a great time to review your organization's Succession Plan. Giving your Succession Plan a tune-up can be a great way to ensure the people selected as future leaders have been progressing as planned and that the plan itself has kept up with any organizational changes.If your organization doesn't have a succession plan or has been hesitant to develop one, consider the experience of McDonald's Corp. Two CEO's died suddenly over the course of just two years. Enter an outsider, Jim Skinner, to fill the role of CEO. Understanding the importance of succession planning to an organization, Jim would often ask managers, "Give me the names of two people who could succeed you." When Skinner retired in 2012 he was confident that his successor, CEO Don Thompson, was ready to take over because Skinner spent much of his seven years with the company mentoring Thompson.
Succession planning is important to the company's long term successful governance. So as you start 2016 take advantage of the opportunity for a fresh beginning and give your organization a Succession Plan tune-up. Use the following steps to either develop a Success Plan or tune-up an existing one.
Step 1: Identify Current and Future Critical Positions

Identify the current and potential future positions that are critical to the smooth operation of the organization. This can include roles for managers, senior managers and those likely to be headed for the executive suite. Without effective leaders in these critical roles, the team, department or organization would be unable to effectively meet their business objectives.

Step 2: Develop Position Profiles

It is essential to have a clear understanding of the capabilities needed for successful performance in critical positions. This will assist in guiding learning and development plans, setting clear performance expectations, and for objectively assessing performance. To get started a position profile for each critical position should be developed that will identify the qualifications as well as the behavioural and technical competencies required to perform the position successfully. Using behavioural assessments as part of the position profile can help to objectively define the behaviours required.

Step 3: Review the Organization's Current Talent Pool for Potential Leaders
Once critical positions have been identified and position profiles developed the next step is to review the organization's current talent pool. It is essential to determine which employees have demonstrated abilities in line with position profiles and could be potential leaders so development plans can be established for them. For those roles that can't be filled from the internal talent pool, strategies and plans should be developed to look outside for the required skills, experience and behaviours identified in the Position Profile.

Step 4: Document Plans and Strategies

Once the above steps have been completed, it's essential to document all plans and strategies in a Succession Plan that can be implemented and monitored. Within the plan: define critical positions, detail position profiles, identify potential leaders as well as their succession development plans and assign timelines.

Step 5: Monitor Implementation and Evaluate Effectiveness
To ensure that the succession planning efforts are successful, systematically monitor workforce data on a regular basis and evaluate activities. When necessary, make necessary adjustments so the Succession Plan remains relevant and current.
To learn more about how behavioural assessments can be used to identify the next leaders in your organization and help to build a robust Succession Plan, contact us.