Get the most value out of your assessments with dynamic training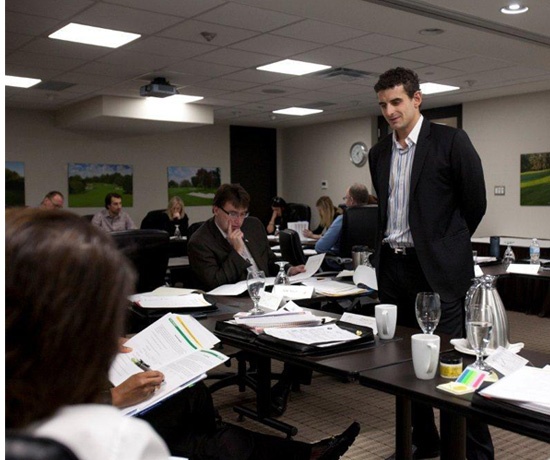 I wanted to say thanks to you and your team for doing a great job with my teams. We have been through it many times, and every time you guys execute on this very important task.
The course had a profound impact on me and I am happy to say that every day I bring the people factor in and that has added more fulfillment to my life and to those around me.
The training you did with us was truly superior. All my team are talking about it and very appreciative for the training, and the empathetic, enjoyable manner in which you taught them.
PI Management Workshop™, e-Learning Courses and Webinars
Learn how to use data to make people-smart decisions and harness the power of the PI Behavioral Assessment™ in our highly interactive workshop and e-Learning settings. Participate in Webinars as a refresher once you've started with PI workforce assessments.
Our experienced Consultants teach how to:
– Predict how others will perform
– Develop people-smart management skills
– Decipher leadership style
– Promote an environment of productivity and cohesion throughout your organization
Predictive Index Management Workshop™
Learn how to create the foundation for the "PI difference" in your organization.
In this workshop, PI knowledge is transferred to managers at all levels of your organization.
Participants learn how to:
– Develop people-smart management skills
– Decipher leadership styles
– Promote an environment of productivity and cohesion
– Adopt and apply PI data throughout your organization
e-Learning Courses
Enhance and reinforce PI knowledge at all levels of your organization with our 30-minute online courses.
Each session delivers powerful proprietary content, interactive practice, and information to increase the learner's ability to apply PI insights.
Current Course Offerings
1. Introduction to Behavioural Science and the Predictive Index
2. Predictive Index Review
3. Delivering Powerful Predictive Index Feedback
A knowledge check at the end of each course allows learners and their managers to assess and track learning results.
These online courses benefit veteran and new clients alike, educating managers about how the insights revealed by the Predictive Index can be harnessed to drive business results.
PI Webinars
Get the most out of the PI with Webinars that review key features and help utilize assessments in your organization. Topics covered include:
– How to read PI graphs and use M and E factors
– How to establish a Performance Requirement Options™ (PRO™) Assessment (Job Model)
– How to use the fit/gap analysis of candidates and PROs
– How to give PI feedback to co-workers webinars are held monthly, the last Friday of each month
2016 Webinar Schedule
Each webinar is led by a Predictive Success™ expert and is highly interactive.
December 16 – How to Conduct Effective Interviews with PI
2017 Webinar Schedule
January 27 – Managing "the Individual"
February 24 – Women in Leadership: A Girlboss Guide
March 24 – Managing the Mobile Workforce
April 28 – Understanding Yourself With PI
May 26 – Leadership: Louder does not mean leader
June 23 – Creating a Safety First Culture in the Workplace
July 28 – Culture Eats Strategy for Breakfast
Predictive Index North American Certification Information
The Predictive Index certification is now recognized for re-certification hours for the CHRP program and is offered through The Predictive Index® in Canada by Predictive Success. Certification is achieved through a pre-class assignment followed by a 2-day, 14-hour training program by Certified Predictive Index Facilitators.
Predictive Index Certification Qualifications
To qualify for a Predictive Index certification, participants must:
– Be an employee in good standing with a company that has an active contract with Predictive Success
– Have 2-3 years of business experience
– Attend all 14 hours of training and knowledge transfer
Build Trust Through Scientific Selling
Customer-Focused Selling™ is a consultative sales process that puts the needs of the customer first. It is a solution-based approach in which a sales representative actively works with the buyer to solve problems in an atmosphere of earned trust and two-way communication.
The benefits are well-documented and the outcomes are clear:
– Increased sales volume
– Improved close ratio
– More efficient and productive use of selling time
– More effective sales management process
– Larger cross-selling volume
– Increased repeat and referral business
– Better differentiation from the competition
Customized Sales Training for Improved Performance
Customer-Focused Selling™ (CFS) is an effective, sales training program that provides all the core competencies needed for effective consultative selling-with special emphasis on the particular areas shown by the Selling Skills Assessment Tool™ (SSAT) to need improvement.
In a highly interactive, adult learning format, CFS delivers the specific knowledge your team needs to consistently achieve better sales results.
The training is designed to be used every day, not memorized. Participants come away from the workshop ready to apply the new learning to their own customers and prospects.
Workshops That Work for You
Available in a 1- or 2-day format, the CFS workshop can be delivered in over 23 languages by one of our consultative sales experts. We are able to arrange workshops at a venue of your choice, whether it be a public space, or at your own premises.
For Larger Sales Teams
CFS is available in a comprehensive, certified, Train-the-Trainer format which brings delivery and reinforcement back to your organization, and customizes the training to reflect your specific business environment.
The Leadership Pipeline™
The transition from successful individual contributor to successful leader takes more than acquiring leadership skills. Each successive leadership role requires a shift in mind set and a fundamental shift in how the leader leads.
Evaluate, Benchmark, Appraise
The LPI is an online feedback system that combines self-evaluations with views from direct manager(s) and direct reports to evaluate performance as a leader. This benchmark measure is essential in the creation of a dual performance appraisal system.
The Leadership Pipeline™ Workshop
In this 4-day Training Course participants learn what is expected of a leader at each level and the corresponding skills required to successfully lead.
The Leadership Performance Index is completed by each participant before and after this workshop to set a benchmark for leadership performance.
Leadership Pipeline™ Facts
– Separate courses designed for each level of leadership
– 4-day Course (each day consists of 8 hours classroom work)
– Easily customized to integrate into existing HR tools and practices
– Includes (2) 360° reviews for each participant (1 prior to course, 1 six months after course)
– Organizations have the ability to train internal facilitators in the LPI
Skills Every Sales Manager Needs
Coaching is more than a job responsibility. But it's not easy. Helping people learn new ways of doing things involves changing existing behavioral habits and establishing new ones.
Our coaching workshops combine workforce analytics, which includes skill and behavioural data, with practical application, and enable sales managers to accurately coach for outstanding sales results.
Each workshops provide sales managers with:
– A proven four-step coaching process
– Practical application strategies like how to use data from the Selling Skills Assessment Tool™
– Advanced coaching skills
– A learning lab that emphasizes practice, practice and more practice
Private 1-on-1 "Coaching"
Our 1-on-1 Executive Coaching for Excellence includes two sessions of two-hour training blocks. Our experts will use a data-driven approach to build a customized coaching plan for your leaders' professional development.
Our full-diagnostic suite includes:
– Predictive Index® (PI®)
– Professional Learning Indicator® (PLI®)
– Multiple-Source Development Survey (MDS)
– Four hours of tailored coaching to help leaders and future change-agents, identify and leverage their own unique behavioral strengths
With defined fits and gaps, leaders learn to devise strategies for development and greater success.
Coaching to Excellence™
Coaching to Excellence is a one-day sales management coaching program that leverages an organization's selling skills metrics by using Selling Skills Assessment Tool™ (SSAT) data for a fully customized result.
Your sales organization most likely has the typical bell curve – a small group of top producers, a small group of folks struggling and a large group of adequate producers who are not yet reaching their potential.
Coaching to Excellence™ recognizes that your sales managers are the critical leverage point for achieving consistent long-term sales improvement and gives them the skills to drive day-to-day performance.
Coaching for Sales Growth™
Coaching for Sales Growth is a powerhouse one-day sales management coaching program that combines selling skill metrics with behavioural data by leveraging data from both the Selling Skills Assessment Tool™ (SSAT) and PI Behavioral Assessment™
It provides sales managers with the road map and skills to make these positive changes and to enhance overall sales effectiveness and productivity.
Coaching for Sales Growth lets you leverage your investment in PI and maximize the impact of the SSAT by giving sales managers the knowledge and tools they need to make a tremendous impact on a person's performance – and on the organizations sales numbers.
Learn To Influence The People That Matter
The best influencers know and understand the power to captivate and compel is central to success at all levels of your business.
Without influence, inspired plans get ignored, valuable relationships break down and your impact within an organization is dampened.
Perhaps most important however is that the influence process and science behind it, can be learned.
Strengthen Your Ability To Influence
The Influencing for Results system provides individuals with the ability to identify specific influencing skills that any individual can benefit from.
The system comprises two core components:
1. The Influencing Skills Assessment Tool™ (ISAT)
2. Influencing for Results Workshop
The Influencing Skills Assessment Tool™
(ISAT) enables all employees within your organisation to identify existing influencing skills and areas for improvement. This data provides the basis for a development plan in support of improving your ability to sell ideas and gain support without confrontation.
The online survey provides concrete data on 25 aspects of influence in five key areas:
1. Building trust and credibility
2. Understanding the situation and specific needs
3. Presenting ideas and articulating their value
4. Handling objections and gaining agreement
5. Creating long-term relationships with effective positioning
Influencing for Results Workshop
The Influencing For Results Workshop is a 1-day instructor-led influencing skills course that trains you and your teams to build trust and credibility with any type of person and to influence others effectively to get the results you need.
The workshop addresses the competencies identified as lacking by the Influence Skills Assessment Tool™ and benchmarks your current influencing competencies and gives you a really useful "roadmap" to pinpoint the most critical areas of improvement in your skill-set.
Supplementing these skills in such a targeted way maximises the candidate's influence, giving them the practical know-how needed to build consensus, motivate commitment and change, and deliver performance throughout the organisation.
Great two day session, did not fully appreciate the power of the PI tool…five out of five.
I thought the feedback was very authentic and helpful for my own growth. Mitch brings a wealth of knowledge to the table. It's always great to hear from somebody who has led and succeeded.
Just wanted to reach out to say thank you for 2 incredible days on training! Your facilitation skills on such intricate material was truly second to none.