Joining the ambassador program was an easy decision. I've used the Predictive Index my entire career and believe that every organization should be using it to ensure they are getting the right people in the right roles. It has been a great way for me to get in the door with some clients for further consulting opportunities and the staff at Predictive Success are world-class and give you a lot of support. They make selling the Predictive Index fun and easy. It has been a great addition to my service offering"
Rich Huisman, Founder | JENT Consulting

Become a Data-Backed Leader in Your Field
Our Ambassadors are leaders in their field, and will work with a Managing Principal to introduce the Predictive Index System™ to selected clients they work with. Our Managing Principals in the region then work with the ambassador to schedule an overview meeting in person, or by web, to explain the benefits of Talent Optimization and discuss the business issues it can assist in solving.
The ambassador gains access to the Predictive Index™, and can use it as a tool to offer better service, and better results, to their consulting clients, increasing their business outcomes in the process.
PSC Ambassador
Required language: English
We are looking to expand our presence by introducing Certified Partners to our team that are passionate about finding innovative business solutions for new clientele. A Predictive Success Certified Partner offers the potential of a rewarding career of helping business leaders achieve their business objectives through the use of workforce assessments and human capital management methodologies of The Predictive Index and The Predictive Index Learning Indicator. Certified Partners enjoy the freedom of running their own business, building clientele, facilitating management training, and providing client support. The best Certified Partners have a wealth of business experience and a successful track record in one, or some, of the following:
Selling training and/or B2B software

Successful record in Sales or Sales Management

Executive Management

Management Consulting

Active participation in business, civic, and social organizations

An established business network
There are 2 ways to build a successful Practice:
1. Build a dedicated Practice as an Owner/Operator:
You share our obsession to make it easy for businesses to realize the true potential of their workforce.

You have that entrepreneurial spark and want to build a company with high recurring revenue streams.

You are energized by the thought of developing new business and the opportunity to work with C-Suite executives in the C-Suite.

You want to change the lives of people & businesses for the better by helping them understand workplace behavior.

You want a rewarding career and to work with smart people.
2. Add one of the Products to your existing business:
You currently own/run a B2B services company such as a consultancy (HR or Strategic Management), an executive coaching firm, a training company, a boutique retained executive search firm or a corporate accounting firm.

You think adding a best-in-class, world-renowned brand in an allied field would add prestige to your enterprise and expand your opportunities with your current client base and beyond.

You recognize the need for people analytics to assist your clients with the Hire-to-Retire lifecycle of employees in their workforce.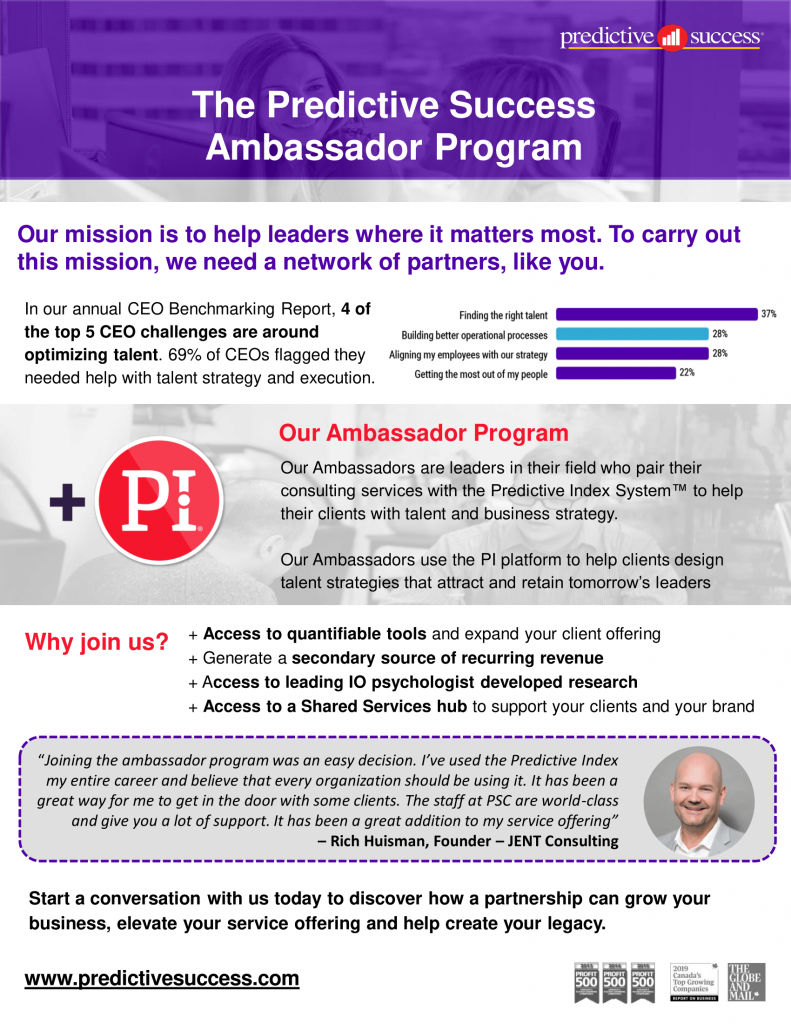 Predictive Success is a Certified Elite Partner of The Predictive Index®
The Predictive Index® is a registered trademark of Predictive Index LLC and is used here with permission.