On June 16th, 2021, Predictive Success gained its 700th client and welcomed Plan Academy of Hamilton, Ontario to our PI community.  Predictive Success, the number #1 Certified Elite Partner in Canada, specializes in Talent Optimization. Thanks to Stephen Flower, Managing Principal, Plan Academy will now be one of the many organizations that we transform by helping them hire the best talent & reduce bias, diagnose opportunities to pinpoint performance and leadership potential, design talent strategies, and inspire employees throughout the employee lifecycle.
When asked about the "secret sauce" when it comes to leveraging your people, David Lahey, Founder and CEO of Predictive Success suggests to "get into their world and your people will do more for you". A one size fits all mentality when it comes to training and coaching your people will have them running out the door. Predictive Success equips you with power and the knowledge to better motivate, lead and utilize your people to the best of their ability.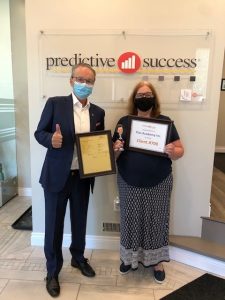 This year marks significant growth and success for Predictive Success Corporation. In addition to reaching this amazing milestone, our 700th client, our PI community across Canada is robust and growing. Our Managing Principals, (Predictive Success' Dream Team) utilize their expertise and continue to elevate, give an 'edge' and provide powerful solutions to their client base. Located from coast to coast across Canada, all our consultants are certified in The Predictive Index Software Suite and The Predictive Index Talent Optimization Certification. While the COVID-19 pandemic has taken a toll on many businesses — which means less hiring is happening — Predictive Success has helped companies pivot and keep employees engaged while they are working from home and working through a pandemic.
We would like to express our gratitude to Plan Academy, Michael LePage, and one of our dream team members at Predictive Success, Stephen Flower.
Unsure of where to start in aligning your business strategy to your talent strategy? Find out how we can help here.