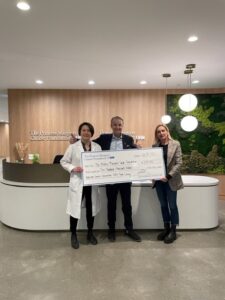 David Lahey the founder and CEO of Predictive Success has supported the training of early-career oncologists at the Princess Margaret Hospital. As a cancer survivor himself, this is reflective of his longstanding passion to recognize talent in the next generation of medical professionals and promote their success. He supported the hospital by pledging 200,000 dollars to the Head and Neck Cancer Fellowship Program which has helped develop immunotherapy research.
What is Immunotherapy?
Immunotherapy is a type of cancer treatment that uses the body's immune system to fight cancer cells. It works by stimulating or suppressing the immune system to help it recognize and attack cancer cells or other abnormal cells in the body. The Princess Margaret Cancer Center (PMCC) has several research programs dedicated to understanding the immune system and developing new immunotherapies for cancer.
In addition to its research efforts, the PMCC also provides training for the next generation of cancer researchers and clinicians. This includes fellowships and other educational programs for students and professionals interested in pursuing careers in cancer research and treatment.
Closing Thoughts
Providing a platform for the next generation of healthcare professionals to learn, grow, and make their contributions to the medical field is vital for the forefront of medical innovation. Predictive Success has renewed the pledge to continue to donate in support of Dr. Lilian Siu's immunotherapy research.
Research plays a vital role in the fight against this devastating disease. With more than 100 different types of cancer and no known cure, finding new and better ways to diagnose, treat, and prevent cancer is a top priority for researchers and clinicians. Funding for cancer research allows scientists and doctors to investigate new ideas, test new treatments, and make progress in the fight against cancer.
For more information about the Princess Margaret Cancer Foundation click here
 About Predictive Success
Predictive Success empowers leaders to optimize workforce performance through proven talent management methodologies, high-performing team-building technology, and collected employee or potential candidate data. To learn more about how you can work with our team, please contact us today.