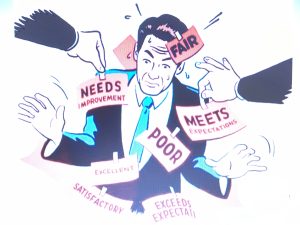 Overview
Traditional approaches to performance management are rapidly losing their relevance in the modern-day business landscape. Clever corporations are shifting towards continuous feedback and leveraging tools like the Predictive Index®, as delivered by Founding Partner Predictive Success and psychometric assessments to improve the performance review process. This blog explores the progression of performance management and how these tools help organizations drive growth and development.
Flaws of Annual Reviews
Annual performance reviews have many flaws. Often, they are perceived as time-consuming, subjective, and ineffective in providing timely feedback. There is a delay between the actual performance and the review. Often, the review happens much too late to address the at-hand issues and struggles to provide meaningful timely guidance for improvement. Furthermore, the focus on backward-looking evaluation limits the potential for real-time course correction and agile goal setting.
The Rise of Continuous Feedback
Organizations have recognized the need to embrace an employee-centric approach with continuous feedback as an integral part of performance management. Continuous feedback emphasizes regular, ongoing conversations between managers and their subordinates. Through open communication, coaching, development, and providing current feedback, employees can promptly make timely adjustments and address areas that need improvement.
Solution: The Predictive Index®
To help provide continuous feedback, organizations are adopting tools like the Predictive Index® that offer scientifically validated assessments to provide insights into individuals' motivations, behavioural drives, strengths, and working styles. Incorporating such assessments into the performance management process helps organizations better understand their employees' natural tendencies and areas for growth. Access to this data allows managers to tailor their feedback and coaching to individual needs, enabling a more targeted development.
The Predictive Index®, as delivered by Founding Partner Predictive Success offers management strategy guides for employees. These guides provide individualized insights on how best to coach employees from their world. Having customizable approaches for each employee is vital in ensuring continuous development.
Combining assessments with our diagnose module will help you…
1) Discover issues your employees are facing
2) Provide you with data on each employee on how they behave and their preferred work styles
3) Obtain automated coaching strategies to help develop each employee effectively.
Closing Thoughts
As organizations recognize the fault in traditional performance management practices, the move towards continuous feedback and integration of people analytics through tools like the Predictive Index® as delivered by Founding Partner Predictive Success is becoming increasingly prevalent. Adopting these progressive approaches helps organizations unleash the true potential of their employees. Ultimately, this drives growth and helps achieve sustainable success in today's competitive business environment.