The Predictive Index® App
The Predictive Index®, with an investment of $50 million from General Catalyst, created the Talent Optimization category. The concept behind Talent Optimization is a simple framework enabling companies to align their business strategy, with its people strategy, for optimal results. With this came a new look, new insights, new coaching guides, new interview questions, and new career mapping tools. The power of Talent Optimization Framework can really be harnessed with the PI Professional Series™ training, which turns business leaders into Talent Optimization leaders.
However, once the training is done, how do you maintain this wealth of knowledge to continue to maximize the Predictive Index System®?
Enter stage right: The Predictive Index Flashcard App! This innovative education tool allows certified PI Practitioners to maintain and solidify their knowledge, long after their training is done. With a variety of modes, the app is versatile to support all types of learning needs.
The Daily Quiz

            If you're working in an HR or management role, and the Predictive Index is something you use every day, the daily quiz is your, (fun), way to make sure you're always up to date on PI knowledge! With 10 random flash cards, the Daily Quiz will test your understanding of specific profiles needs, behaviours, and graphs, as well as factor combinations and adjective descriptions.
Why is this useful? As you become more familiar with the Predictive Index Behavioural Profiles, you will be able to quickly identify different work styles, factor combinations, and needs or behaviours of your employees. As a manager, you will become more effective at motivating and advising your team as the behavioural implications of different profiles will become instantly apparent to you, allowing you to adjust your style or strategy on the fly. Essentially, you will become your own analytics software!
Standard Flash Cards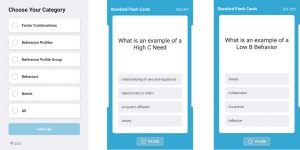 Need to brush up on just one of the categories? The Standard Flash Cards allow managers to test and learn just one aspect of The Predictive Index Behavioural Assessment. With needs, behaviours, reference profiles, and factor combination categories, managers can update themselves on only what they feel they need to refresh.
Why is this useful? As a manager using The Predictive Index System, you will begin to understand what concepts you fully grasped at training, and what ones may need work. The Standard Flash Cards allow you to touch up certain areas of your understanding, to ensure you are always utilizing the full power of the PI System.
Timed Flash Cards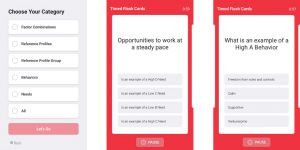 Are you a high A, low C combination with a never-ending drive to win? The timed flash cards are built for you. Race against the clock to see how many questions you can answer in one minute!
Learn More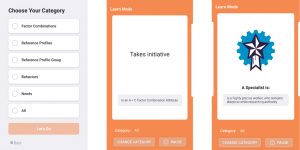 If you just feel like you need to do a little bit of refreshing in a relaxed setting with no multiple-choice questions, the Learn More section will allow you to make sure you're always in top shape! Choose a category, and the app will give you a series of statements and questions with the answer provided. This is a great place to start before diving into the questions!
Why is this useful? Sometimes we don't need competition, we just need a fun setting to learn. Make your next commute, wait at the grocery store, or lunch break a time to make yourself a more informed user of the Predictive Index!
Want to become a PI Practitioner?
If you haven't been trained as a PI Practitioner, but are intrigued by the wealth of knowledge and management skills it teaches, reach out to Predictive Success' Talent Optimization Lead, Hannah Harrison, at hharrison@predictivesuccess.com.