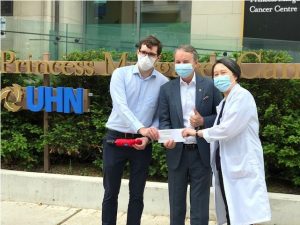 On May 26th, President and CEO of Predictive Success David Lahey welcomed Dr. Marcos to Canada. Dr. Marcos is the funded recipient of the Predictive Success $100,000 donation to the Princess Margaret Cancer Centre in Toronto, Ontario. He will be working as an associate with Dr. Lillian Siu and will be focusing his research on throat cancer with immunotherapy.
Research and funding for immunotherapy and specifically throat cancer discovery research is a cause close to the Lahey family's hearts. David's donation comes from a place of inspiration after receiving exceptional treatment from Princess Margaret in an 18-month battle with throat cancer. Given just three weeks to live, David's battle was not easy. With the help and expertise of David's attending oncologist, a world leader in immunotherapy, David is now 99% cancer-free.
David, a leader in developing systems and methodologies for talent optimization, also acts as a leader and a source of inspiration in his community. On May 27th, Todd and Marcia Finlayson paid a visit to Princess Margaret Cancer Centre to present their donation of $10,000, following suit to Dave and Patty Lahey's gift. Todd felt compelled to assist Dr. Siu with her research fund after seeing firsthand, the wonderful outcomes made possible through cancer research.
Lahey's and Finlayson's donations combined will aid Dr. Siu to continue her work as an innovator in immunotherapy. In addition to her active research in early phase clinical trials, she is the lead for all genomics initiatives and immuno-oncology trials at the Princess Margaret Cancer Centre. Together, the three programs of drug development, cancer genomics, and tumor immunotherapy form a triad of synergy that supports the institution's core vision to deliver precise cancer medicine (Research at UHN). David has famously stated how "he is an example that the research is working. I am not a statistic. I am a survivor."
David Lahey and the Predictive Success Foundation believe strongly in supporting the communities we serve by aiding in health, research, and education initiatives. Like the Princess Margaret Cancer Centre, The Predictive Success Foundation also proudly supports Ronald McDonald House charities, The Canadian Cancer Society, Chalice, and more. Our belief in direct-to-source donations is key to our foundation of giving.
Want to learn more about the communities we give back to? Check out the full list of charities we support here.
References
The Princess Margaret Cancer Foundation. (2021, June) Dr. Lillian Siu refuses to give up hope. Retrieved from https://thepmcf.ca/patient-stories/david-lahey-lillian-siu/#:~:text=his%20chemotherapy%20treatments-,Dr.,attack%20and%20kill%20his%20tumor