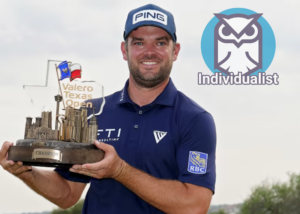 Real-Life Success Story in the Age of Data Analytics 
The power of knowing your behavioural profile from Predictive Index® as delivered by founding partner Predictive Success can contribute to achieving triumph in various aspects of life. From the golf course to the boardroom, understanding your unique strengths and tendencies can provide valuable insights and help you excel in your endeavours. As evidenced by PGA Tour winner Corey Conners, who has leveraged his PI and behavioural profile to achieve remarkable success.
The Canadian golfer who recently clinched his second PGA Tour title at the Valero Texas Open is a shining example of success. Conners' remarkable achievements are further underlined by his completion of a behavioural assessment using the Predictive Index®, delivered by founding partner Predictive Success. His PI profile reveals him to be an individualist who isn't afraid to take on new challenges, possesses analytical thinking skills, and approaches tasks with confidence.
Conners' unwavering determination and firm mindset are integral to his success on the golf course. His propensity for quickly turning ideas into actionable plans has enabled him to overcome obstacles and make significant progress, while his ability to remain focused on the bigger picture has kept him from getting bogged down by the finer details.
Closing Thoughts
The Predictive Index® as delivered by founding partner Predictive Success has proven to be a valuable tool for individuals, teams, and organizations seeking to unlock their full potential. With Conners' success as an example, it's clear that embracing one's unique behavioural profile can lead to greater self-awareness and enable individuals to capitalize on their strengths. The Predictive Index® as delivered by founding partner Predictive Success is a practical and effective solution for those seeking to optimize their performance and achieve their goals.
About Predictive Success
Predictive Success empowers leaders to optimize workforce performance through proven talent management methodologies, high-performing team-building technology and collected employee or potential candidate data. To learn more about how you can work with our team, please contact us today.