Building a More Diverse and Inclusive Workforce
Address your diversity and inclusion targets directly with Predictive Success' "Fostering a More Inclusive Environment" workshop. The pre-planning meeting, team workshop and debrief sessions will examine what diversity and inclusion really entail, provide an audit of your company's current inclusivity, develop an actionable workshop inclusivity goal and an execution plan to meet it.
"Discrimination is real. Inclusion and diversity creates creativity at the workplace. Calls to celebrate our strengths, differences and uniqueness at the workplace and in Canada are needed." – Executive, Salus Ottawa
"Overall, the input was excellent and the facilitator was honest and knowledgeable on the subject of D&I." – Executive, Non-profit Organization
"Thank you for hosting a space where we were able to talk without fear of reprisals. Thank you for saying things that were never previously said, that needed to be said. Thank you for the work that you do." – Executive, Non-profit organization
Teams that have a diversity of gender, race, age, and geography outperform individual decision-makers 87% of the time.
-People Management UK
Immediate Impact
While D&I programs should be more than a single event and should be a journey towards building an inclusive, safe culture of belonging, there is a strong business case for investing in D&I programs:
Greater Productivity: Brings talents together, enabling more opportunities for collaboration as folks work towards common goals
Increased Creativity: Injects more diverse problem-solving skills – a wide range of perspectives allows for new ideas
Lower Employee Turnover: Enables a wider audience to be attracted to the organization, helping reduce turnover rates
Greater Profitability: Increased cultural diversity can lead to higher profitable investments at the company level, increased innovation and revenue, and higher operating profit margins (The Other Diversity Dividend; The Mix that Matters: Innovation Through Diversity; The Business Case for More Diversity)
Stronger Company Reputation: 86% of job seekers say diversity is important when looking for a job (First annual DEI Survey from ZipRecruiter)
Higher Employee Engagement: Creates an open environment to learn from one another, creating more trusting relationships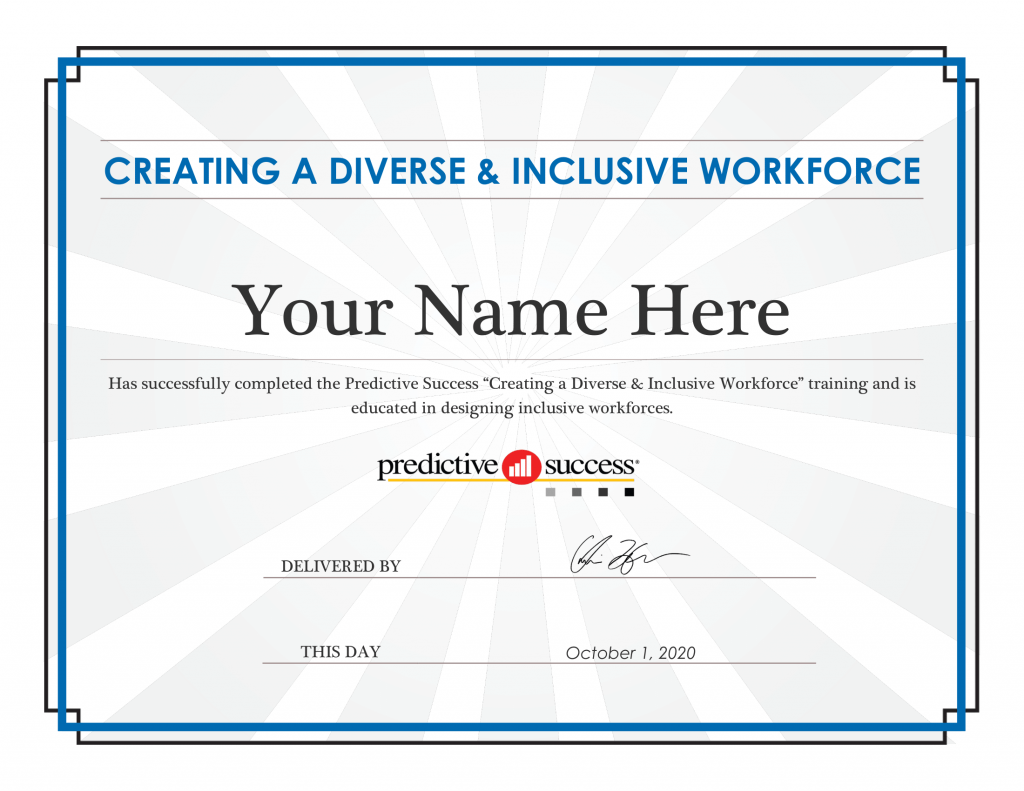 3 Diversity & Inclusion workshops for leaders/managers:
D&I Lite: Half Day

Covers high-level concepts in D&I (Key terms/unconscious biases)
Provides an opportunity for leaders to learn about the personal narrative of a BIPOC Executive throughout her career

D&I Full Day

Deep dive into key concepts (key terms, scenarios, activities, unconscious biases)
Provides an opportunity for leaders to learn about the personal narrative of a BIPOC Executive throughout her career

D&I Lite + PI Fundamentals

Covers core concepts in D&I and supports leaders in gaining stronger self-awareness as they manage/mitigate unconscious biases
Our Statement on Diversity & Inclusion
Fostering a More Inclusive Environment
Elite business cultures thrive when all employees feel respected and appreciated.  Creating an inclusive company and reducing unconscious biases increases retention, performance and attracts a stronger and more diverse talent pool.