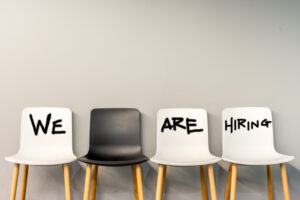 The "War for Talent" refers to the intense competition among companies to attract and retain highly skilled and in-demand employees. This competition is driven by factors such as economic growth, a shortage of skilled workers, and an increasingly globalized job market. Hiring the right person can be a struggle for companies, as they must navigate a competitive job market and sift through a large pool of applicants.
Here are 4 tips to recruit 'top talent' in an increasingly competitive job market:
1. Develop a Flexible Work Environment
The current market is looking for flexible work arrangements such as remote work or a hybrid agreement. If recruiters include this in job postings there would be an increase in candidates as remote/hybrid work has become the norm, with a significant portion of the workforce working from home regularly.
Companies have had to rethink their approach to recruitment, onboarding, performance management, and employee development to support a remote/hybrid workforce.
2. Focus on Diversity, Equity, and Inclusion
Companies should have a clear and compelling employer brand that highlights the company's unique culture and value proposition. The brand should be reflective of the current changes in the world. For example, including diversity, equity, and inclusion in the hiring process can create an inclusive and welcoming environment for all employees. This can help attract top talent from a variety of backgrounds and perspectives.
3. Employee Development and Training
Companies should invest in employee development and training programs to help employees grow and advance in their careers. This will help retain top talent and make the company more attractive to potential hires. When employees feel valued and supported, they are more likely to be committed to the company and stay with the company for the long term.
Providing an employee with benefits such as investment in their education and further training can be a strong incentive for candidates to work for a company.
4. Update Recruiting Tools
Technology has advanced in many ways and so has the potential to greatly improve the hiring process for companies. One way that companies can increase their chances of hiring the right person is by using recruitment tools. The Predictive Index® as delivered by founding partner Predictive Success is a scientifically validated assessment tool that helps companies identify the behavioural and cognitive traits that are more important for success in a given job.
By using the Predictive Index® as delivered by founding partner Predictive Success, companies can gain insight into the strengths and weaknesses of candidates and make more informed hiring decisions. This tool should be used in conjunction with other forms of assessment such as face-to-face interviews and references.
Closing Thoughts
Companies may engage in a variety of tactics to win the war for talent, such as offering competitive compensation packages, creating a positive and dynamic work environment, and investing in employee development and training programs.  Recruiters need to get creative when trying to scout for talent to ensure they find the right candidates.
About Predictive Success
Predictive Success empowers leaders to optimize workforce performance through proven talent management methodologies, high-performing team-building technology, and collected employee or potential candidate data. To learn more about how you can work with our team, please contact us today.