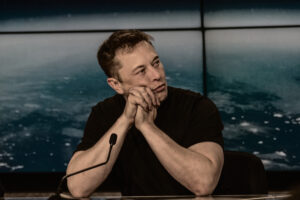 Elon Musk is globally known for his riches, success, and innovation. Most people imagine Musk to handle engineering processes, develop new batteries, and oversee product development at Tesla at SpaceX. However, as busy as he is, Musk had decided to enter the HR field and sent an email to his staff indicating he must personally approve all new hires. His email read "No one can join Tesla, even as a contractor, until you receive my email approval".
The Problems
Hiring Bias
Lack of Diversity

Elon's involvement in hiring decisions can result in a lack of diversity within the company. This is especially true because Elon has the final say on who is hired. Whether conscious or unconscious, hiring bias can lead to favoring candidates who align with his personal preferences or background. This can hinder the company's ability to build a diverse workforce. Additionally, Tesla has recently settled their racial discrimination lawsuit from its flagship California assembly plant.
This email coupled with recent HR issues negatively impacts Tesla's public image with respect to encouraging a diverse workforce.

Reinforcement of Stereotypes

Hiring bias perpetuates stereotypes and reinforces social inequalities. Musk is naturally inclined to hire individuals who fit certain stereotypes or profiles. This will directly limit opportunities for individuals from underrepresented groups.

Limited Perspectives & Innovation

By favouring candidates who share similar backgrounds or viewpoints, there will be a small range of perspectives within the company. Diverse teams are required for innovation, creativity, and problem-solving by incorporating varied experiences and ideas. Hiring bias will hinder the development of diverse teams and stifle innovation.

Negative Impact on Company Reputation

In today's social and prevalent cancel culture, diversity, and inclusion are highly valued. Once society detects a lack of commitment to fair hiring practices, it will result in negative publicity and damage Tesla's reputation. This negative publicity is bad for any organization and its shareholders.
The Solution: The Predictive Index®
The Predictive Index®, as delivered by founding partner Predictive Success is a leading software in talent optimization that empowers organizations to match their people strategy with the business strategy. We offer a variety of pre-employment testing tools to obtain data on candidates and make decisions based on scientific analysis rather than gut feelings.
Assessments We Offer
The Predictive Index Behavioural Assessment™

Delivered by founding partner Predictive Success, the BA is an "untimed, free-choice, stimulus-response tool" used to determine a candidate's drives, motivations, and needs.
This assessment is useful in determining whether the candidates are naturally inclined to be a good fit.
It helps to design efficient teams and manage employees at an individual level.
Evaluates various aspects of an individual's personality, shedding light on their expected behaviour in the workplace.

The Predictive Index Cognitive Assessment™

Delivered by founding partner Predictive Success, this assessment "measures an individual's general cognitive ability". It serves as an indicator of how long it takes someone to learn or process information.
The cognitive assessment measures cognitive ability in 3 categories, verbal, numerical, and abstract reasoning.
One of the strongest predictors of job performance

The Predictive Index Job Assessment™

This assessment is completed by people in an organization to determine a behavioural and cognitive benchmark for available roles.
Key stakeholders outline the frequent and important tasks of the role.
The software takes the information from stakeholders and generates a job target for your role.
During the interview, it's important to highlight potential areas of misalignment. Our candidate interview guide helps by providing structured interview questions.
About Predictive Success
As a founding partner, Predictive Success offers The Predictive Index® to empower leaders with the necessary resources and knowledge to optimize workforce performance. Our expertise lies in effective talent management strategies, cutting-edge team-building technology, and thorough data analysis. Through our tested methodologies, we enable organizations to fully leverage the abilities of their employees and prospective candidates, leading to success. If you're interested in exploring how our team can support you in reaching your objectives, we encourage you to reach out to us today. Contact us to unleash the potential of talent optimization and propel your organization to unprecedented achievements.
References
https://www.hrmagazine.co.uk/content/news/elon-musk-s-new-tesla-hiring-policy-disrespectful-to-hr