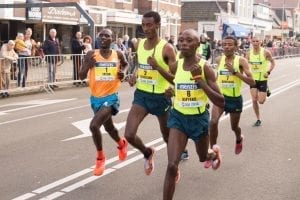 Adebe Bikila was the first Ethiopan man to hold the world record time in the marathon.  He broke the record in 1960, finishing in just over 2 hours and 15 minutes.  If Bikila were to have finished the 2017 Berlin Marathon with the same time, he would have finished 18th.

[i] This has been a consistent occurrence across every sport and athletic competition.  Athletes and teams have been smashing records over the last 60 years and accomplishing athletic feats previously thought impossible.  Have these rapid improvements in performance been a result of athletes becoming bigger, stronger and faster? Yes, that is a factor no doubt, however we must take a close look at how improvement in technology and sports analytics have been the consistent driving forces allowing athletes to break through to new levels of performance. More people are playing sports than ever before and sports leagues have become increasingly competitive.  Sports analytics offer a competitive advantage to athletes and teams looking to edge out their competition.  Data-driven decisions are the future of sport and present an attractive business opportunity for companies with the capacity to leverage this data effectively.
The Sports Analytics Market
The market for sports analytics is extremely hot right now.  A recent study found that the sports analytics market is expected to grow from USD 123.7 Million in 2016 to USD 616.7 Million by 2021, at a CAGR of 37.9%.[i] Technology companies such as IBM, SAP and Oracle are rapidly innovating to provide cutting-edge sporting solutions that tap into this expanding market.
Behavioural Analytics in Sport
Major players in the market are currently focusing on improving player performance with observable data: using technology to monitor and assess things such as heart rate, oxygen intake, biometrics, etc.  Some will also make data-driven decisions to create superior fan experiences and optimize venue infrastructure.[i] Very few, however, are using data to improve intangible factors such as team cohesion, effective coaching and assessing ideal behaviours of athletes.  These are essential elements of performance in team sports and can be properly leveraged using The Predictive Index Behavioural Assessment™, delivered by PI certified partner Predictive Success®.  The Predictive Index Behavioural Assessment™ is a software that objectively identifies behavioural traits in athletes.  This data can then be used by athletes to assess behavioural strengths and weaknesses, by coaches to better understand the motivational needs of their players and improve their relationship, or by scouts to assess ideal behavioural traits in prospects.  This has been used by the Hamilton College Hockey Team and by professional hockey player Alexander Steen with tremendous success.

To learn more about what Predictive Success can do to improve your team's performance, contact us.

[i] Results Archive. (n.d.). Retrieved from https://www.bmw-berlin-marathon.com/en/facts-and-figures/results archive.html

[i] Sports Analytics Market by Type (Solutions & Services), by Applications (Player Analysis, Team Performance Analysis, Health Assessment, Video Analysis, Data Interpretation & Analysis, Fan Engagement), by              Deployment Type & by Region – Global Forecast to 2021(Rep.). (n.d.). Retrieved from https://www.marketsandmarkets.com/pdfdownload.asp?id=163405504

[i] Internet of things. (n.d.). Retrieved from https://www.ibm.com/internet-of-things/spotlight/iot-zones/sports-analytics