F
or a moment, put yourself in the shoes of your CEO. Maybe you know them well, maybe you don't – either way, you can likely imagine the amount of pressure they are under with all of the business challenges 2020 has seen..
Leader, captain, analyst – CEOs can wear many hats and are often seen overlooking many departments among their company. Most importantly, CEOs are strategists. They constantly have to be looking ahead, in good times and in bad, planning for decisions that will affect the future of the business, often taking on the bulk of the stress. 
The surprising fact here is that The Predictive Index 2021 CEO Benchmarking Report, (which details the top concerns and priorities of 160 CEO's in a post-COVID remote world), uncovered that the bulk of the tension and stress CEO's are feeling right now is stemming not from business or financial decisions, but from people ones.
According to the report, 36% of CEOs say that the number one source of conflict on their team moving into the new world is interpersonal struggles.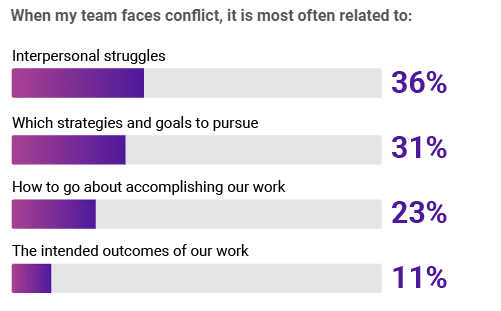 In addition to this source of conflict, 51% of CEO's are also saying that "working well remotely" is a top challenge in helping all employees transition into working from home. While companies may be committed to and having to work from home, for many, the shift has not been easy.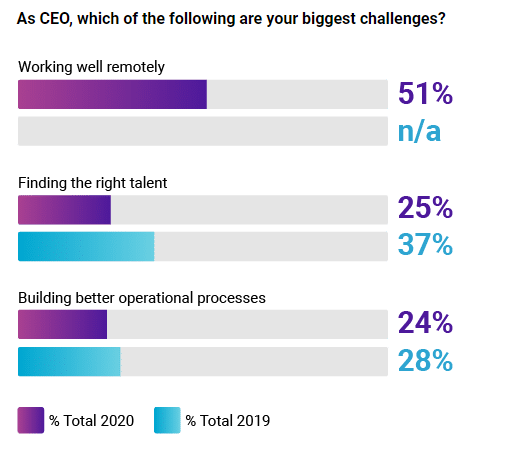 With working remotely comes the challenge of employee productivity. Among the group of CEO's, 56% say employee performance is of high concern. Other concerns include the brand-new challenge of COVID-19, with 48% of CEOs saying they lose sleep over how the virus is impacting their business and 34% concerned about customer satisfaction.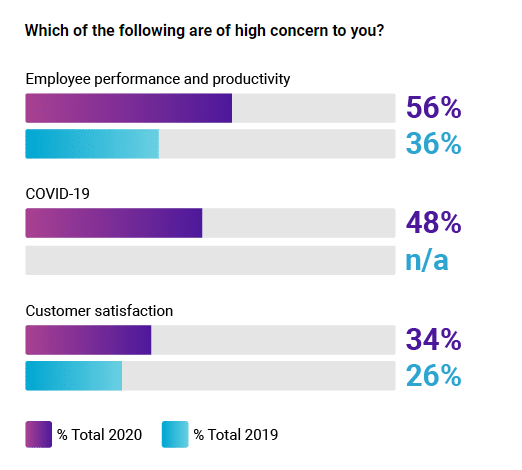 All of these concerns are valid and lead to questions that have only become more critical in a remote working world. Teams that previously worked well together in an office setting may be having trouble shifting to an entirely remote world without any in-person interaction and emotions running high. This is why it is so important for CEO's to not only know their people but understand them. With this information, strong and cohesive teams can be crafted and employees can begin to work toward a unified goal. Learn how to get started with personalized data on the engagement of your team with  The Predictive Index Employee Experience Survey.
Read the full 2021 CEO Benchmarking Report from The Predictive Index to learn exactly what CEO's are learning from the year they've had and how they are planning ahead for 2021. 
See how Predictive Success can help you put your plan into action by speaking with a Talent Optimization Consultant here.
References
Annual CEO Benchmarking Report 2021 (2020). The Predictive Index. Retrieved from https://www.predictiveindex.com/ceo-benchmarking-report-2021/?plaId=Fk4Wu8Xo3&utm_source=PLA&utm_medium=link&utm_campaign=Fk4Wu8Xo3 
Silbert, D. (November 2020). CEOs say this is the No. 1 source of conflict. The Predictive Index Blog. Retrieved from https://www.predictiveindex.com/blog/ceos-say-this-is-the-no-1-source-of-conflict/?utm_source=linkedin&utm_medium=social-organic&utm_content=pi