2
020 has been a difficult year in many ways. The pandemic has affected everyone differently, and unfortunately for some it has resulted in unemployment. In a regular scenario, coping with unemployment is hard enough, but in our current climate it can be devastating.
Increased competition from fellow job seekers, uncertainty of the future, and financial stress can result in candidates feeling discouraged and unsure of themselves. This is compounded by the additional strain felt from fears surrounding the virus, as well as the complications of our current social, political, and environmental climate. With everything going on, how are job seekers supposed to remain confident and motivated during the Covid crisis?
I found myself in such a predicament this year. Finishing my final year of school and graduating during a pandemic was a strange and unique experience, but the reality of little to no opportunities after graduation was disheartening. A lot of companies simply were not hiring, and competition was high for the ones that were. I was unsure of myself and how to move forward with starting my career.
Until Predictive Success came along. They reached out to me, believing me to be a good fit for a role they were looking to fill. This hunch was proven correct after I completed the Predictive Index behavioural assessment. In the past I had done behavioural assessments and was always skeptical of the results. This was often due to most assessments having forced questions where you have to rank a response. I never really found them accurate since I believed many of the questions to be situational. This meant that I never truly identified with my results.
The Predictive Index is different. It is a free-choice, stimulus-response, meaning that it does not have those forced choice questions. By engaging people to freely pick their answers, it provides a more accurate result. And in my case, it worked. For the first time, I felt like I could truly identify with my results. It outlined my behaviours, as well as my motivating drives and needs. Fortunately for me, these behaviours were exactly what Predictive Success was looking for.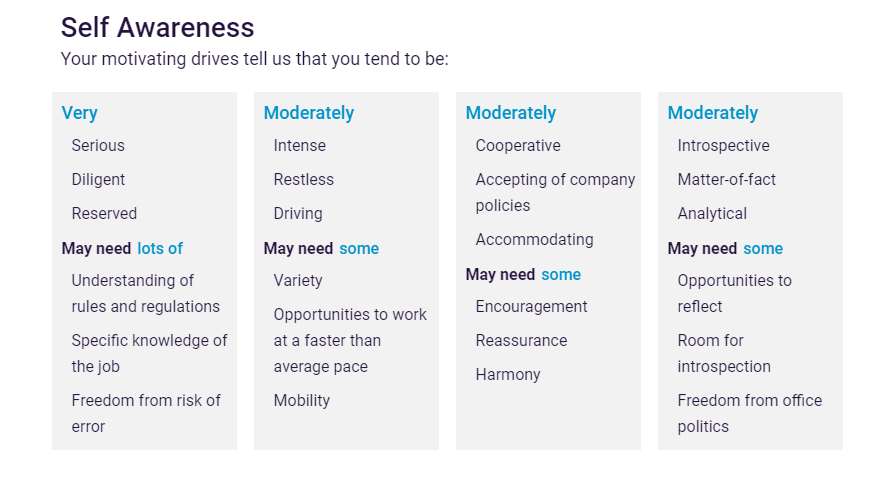 So, now the question is "how can a behavioural assessment help me find a job?". The answer is by helping to identify your needs and wants from a workplace, as well as your areas of strength. For me, this meant recognizing my strength in precision and detail. It also showed me that I needed a job that would provide me with variety, a chance to work collaboratively, and opportunities to reflect and be analytical. Knowing these areas of strengths and needs, as well as potential cautions, makes a candidate become more self-aware. This can not only help job seekers market themselves (either on their resume or in an interview) but also to ensure that the position and company they are applying to is a good fit.
Arming yourself with this knowledge can increase your confidence as well as provide a direction when struggling with the ambiguity of unemployment. If you are interested in learning more about your own motivating drives and needs and how to effectively market yourself for your dream job, contact us!