Employee disengagement stems from the non-compatibility between employees and their role in the company. There are too many instances where a company hires the wrong candidate for the position, causing dissatisfaction for the worker and disruption for the organization. A recent Gallup report on State of the Global Workplace concluded that only 20% of employees are actively engaged at work. This statistic has been decreasing over the years as more and more employees have changed their mindsets in what they want in a job. Expelling disengagement from you organization is not an easy task, which is why Predictive Success is here to help. Through The Predictive Index®, organizations can find talent needed for their positions and revive the effort to reach their goals.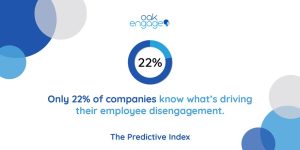 Productivity
A major impact of disengagement in the workforce has always been productivity. Disengaged employees lack the same focus and motivation as their engaged counterparts, leading to more wasted time at work. A Gallup study partnered with Forbes estimates that a disengaged employee costs the company 34% of their salary due to poor productivity. To regain the lost ROI for your organization, PI's patented Predictive Index Behavioral Assessment™ is a reliable and easily accessible tool to implement in your company. The behavioral assessment allows employers to discover the drives and needs of their employees/candidates so that they can assign them to a position that best amplifies their work style. Countless case studies can attest to the benefits of using PI in their companies, with some growing their revenue by over 25%. Companies with employees who are compatible with their roles have seen engagement rise and efficiency also increase by 50% in a case study from Predictive Success.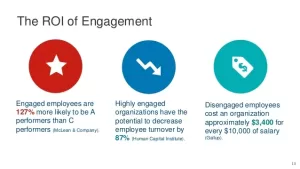 Retention
High turnover rates can certainly hinder a company's growth. If an employee doesn't feel connected to the role and the company, they may leave for another organization. Staff turnover is an issue that results in added costs for the company to hire and train new employees. The Predictive Index can help strengthen employee retention by fitting workers in roles that make them feel proud and recognized for their contributions to the company. Case studies have shown that implementing PI can aid companies in reaching 100% retention, allowing them to put forth their old turnover costs into company growth.
Customer Experience
Studies indicate that seven in ten employees are in positions that involve direct contact with a customer. The lack of effort and negative attitudes commonly observed with disengaged employees can hurt customer satisfaction, and in turn lower sales growth. The behavioral assessment can help determine what types of people are best fitted to interact with customers, raising the morale of the employee from their quality of work and pleasing the customer. Many companies have seen a large increase in sales after implementing PI, some of which had to do with the poor customer experience before PI.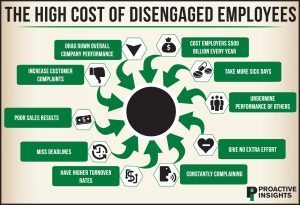 Communication
When disengagement plagues an organization, communication and collaboration breakdowns tend to follow. Disengaged employees will isolate themselves from their teams and refuse to work with members. Managers may also find themselves frustrated with the employee and escalate the situation, which will only bring a greater lack of production. However, having a PI developed team can provide valuable insights on a group's strengths and weaknesses, allowing each member to contribute their best work. The benefit of the behavioral assessment goes farther than just the fit of an employee in their role but also the understanding of that employee from other members of the team. Co-workers who know the drives and needs of each other can better interact in a way that yields content from all employees, which increases confidence and in turn engagement in the organization.
Before rising disengagement creates a toxic culture in your organization, reach out to Predictive Success to learn how to leverage The Predictive Index.
Predictive Success empowers leaders to optimize workforce performance through proven talent management methodologies, high-performing team building technology, and collected employee or potential candidate data. To learn more about how you can work with our team, please contact us today.
Sources:
Five Ways Employee Disengagement Is Hurting Your Business | by Elizabeth Knox | Vunela
The impact of employee disengagement | HRZone
12 Employee Engagement Statistics You Need To Know In 2022 (peoplemanagingpeople.com)