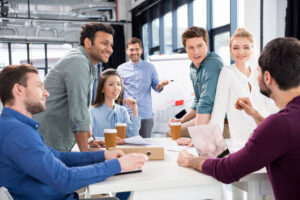 Pressure for Managers in the Workplace
The last few years have been a troubling time for managers with the emotional strains of the pandemic the difficulties of returning to the office and now the rise of a financial crisis causing many employees to get laid off. It is especially difficult for managers who are responsible for making these tough decisions.
The pressure to make the right choices and to minimize the impact on the company and remaining employees can be immense, and this pressure can take a toll on a manager's effectiveness in the workplace. They may find it hard to focus on their usual tasks, or they may feel overwhelmed and stressed, which can affect their performance and decision-making abilities.
How Can We Solve this Problem?
HR teams must address the situation of overburdening managers. Managers are necessary and the recent decline in engagement is a result of the high-volume workload. Since there has been an increase in terminations because of the recession, the managers are typically picking up the pieces of what has been left behind. Individuals in Human Resources are suggested to enable existing employees to deliver more effectively.
The three areas organizations need to focus on to enable managers to be more effective is:
Enabling the Village
The concept of "enabling the village" refers to the idea of empowering and supporting a team or community to achieve a shared goal. This can involve providing resources, training, and guidance to help individuals develop the skills and knowledge they need to contribute to the group's success. By enabling the village, leaders can create a collaborative and inclusive environment where all members feel valued and can make meaningful contributions.
Create a Map for Success
A map for success can help managers stay focused and organized and can serve as a roadmap for progress and success. It can also help managers communicate their goals and plans to their teams. This involves setting clear goals and objectives and developing a plan to achieve them.
Provide Data
When companies receive ongoing feedback and continuous performance data, they can make changes and adapt to the needs of the employee and managers. The Predictive Index® as delivered by founding partner Predictive Success offers Employee Experience Survey a Talent Optimization Module under Diagnose that helps companies understand what drives employee engagement and satisfaction. This can help managers and leaders make data-driven decisions about how to improve the workplace and create a more positive environment for employees.
Closing Thoughts
Managers are experiencing a high work volume, and this is causing a decline in engagement and effectiveness. With both a recession looming and a tight talent market, companies should take the initiative to support managers build an efficient work environment to empower and support a team to achieve a shared goal. The Predictive Index® as delivered by founding partner Predictive Success offers talent optimization tools to help managers navigate employees.
About Predictive Success
Predictive Success empowers leaders to optimize workforce performance through proven talent management methodologies, high-performing team-building technology, and collected employee or potential candidate data. To learn more about how you can work with our team, please contact us today.