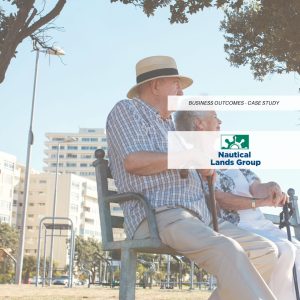 Introduction
Founded over thirty years ago, Nautical Lands Group (NLG) has become a beacon of innovation in the world of luxury retirement communities. Established by Kirk Hoppner, NLG aimed to provide affordable seniors' housing in smaller Ontario towns. Under the leadership of President Kevin Pidgeon, NLG has garnered global acclaim for its revolutionary approach to 55+ living and care. NLG, driven by core values of innovation, inclusivity, responsiveness, and resident-centric focus, has been a trailblazer in the industry. The Wellings brand, has set new standards with 4,000 and 5,000 doors in various stages of development in 2023. Their commitment to excellence has earned them over 10 prestigious awards globally.
The Opportunity  
The organization actively pursued a partnership with Predictive Success, with the overarching goal of refining their talent acquisition processes. The primary objective was to guarantee a strong job fit for individuals with roles that best suited their skills and expertise.
Kevin Pidgeon firmly believed in the power of perception. Understanding that employees' perceptions shape their reality, Kevin sought a tool to empower his management team with valuable data. Enter The Predictive Index® as delivered by elite partner Predictive Success.
"It was pretty reassuring to me, because the only way to manage is to empower and coach your people to be their best," Kevin emphasizes. He recognized the potential of The Predictive Index® as delivered by elite partner Predictive Success, not just as a management tool but as a self-awareness instrument.
Solution
Since implementing The Predictive Index® as delivered by elite partner Predictive Success, NLG has witnessed transformative changes in relationships and communication. Kevin notes, "It's made everybody within our organization better communicators because they're all speaking the same language. And if anyone is not speaking the same language, they have an instant translator with PI."
In 2022, NLG conducted the Predictive Index Diagnose Employee Engagement Survey® to gauge the pulse of their workforce. The results were illuminating, with a 99% completion rate and engagement scores exceeding 80% across the board—well above industry benchmarks. Kevin describes this as a "real eye-opener" and emphasizes that these insights will shape their internal communications strategy and serve as a vital reference point for managers.
Coming out of their first year with The Predictive Index® integrated into their talent strategy, NLG proudly reports a remarkable 98% retention rate in 2022. Kevin underscores the significance of cultivating and nurturing human resources, stating, "Your number one resource is your people, and if you're not doing that, you're doing yourself a great disservice because they won't do the same for your business."
Conclusion
Nautical Lands Group's journey with The Predictive Index® as delivered by elite partner Predictive Success provided a stellar 98% retention rate and an impressive 86% overall employee engagement. These results stand as a testament to NLG's commitment to fostering a workplace where employees thrive and contribute to the company's continued success. towards a future of continued growth and prosperity.
About Predictive Success
Predictive Success empowers leaders to optimize workforce performance through proven talent management methodologies, high-performing team-building technology and collected employee or potential candidate data. To learn more about how you can work with our team, please contact us today.