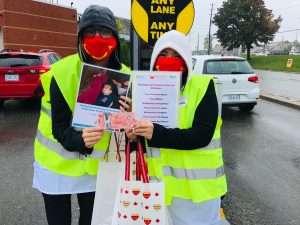 On September 22nd, Predictive Success donated $5000 to The Ronald McDonald House Charities, through Finlayson Hospitality Group, owners, and operators of 8 McDonald's restaurants in the GTA by Todd and Marcia Finlayson. Last year, it was impossible to host McHappy Day due to the pandemic, so this year guests were given multiple ways to make an impact. For the first time, a portion of the proceeds from every food and beverage item sold went towards RMHC. This year was a rainy McHappy Day but that did not stop our Shared Services team members from volunteering and celebrating McDonald's Canada 27th McHappy Day. Hannah Bourke and Michaela Picones spent some time in the drive-thru informing guests about McHappy Day and even had the pleasure of meeting a family who stayed in one of the RMHC Family Rooms at Markham Stouffville Hospital.
In Canada, 65% of Canadians live outside a city with a children's hospital. So when a child gets sick and needs to be hospitalized, families often have to travel hundreds of kilometers for the treatment and support their child needs. At Ronald McDonald Houses and Family Rooms, families are given a caring place to stay close while their child is being treated at the nearby hospital. With bedrooms, kitchens, quiet spaces to be together, and a loving and supportive atmosphere, RMHC truly becomes a home away from home for our families.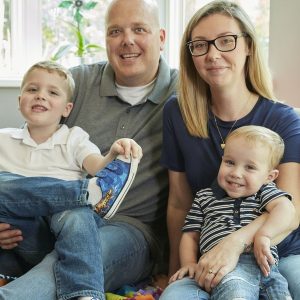 "…being able to have our oldest son with us and remain as a family during a time you're so grateful for loved ones warms my heart. Being able to make this a family fight has made us stronger".
– The Hillier family, stayed 68 nights at RMHC Southwestern Ontario
About Ronald McDonald House Charities® Canada (RMHC® CANADA)
Ronald McDonald House Charities® Canada was founded in 1977 since then, they have been dedicated to keeping families together. Annually, the RMHC network of programs in Canada helps to keep more than 26,000 families close to their sick child and the care they need. The 16 Ronald McDonald Houses provide out-of-town families with a home to stay at while their child is being treated at a nearby hospital, while the 17 Ronald McDonald Family Rooms provide a comfortable place for families to rest and recharge, right inside hospitals. For more information, please visit rmhccanada.ca.
References:
https://www.newswire.ca/news-releases/today-mcdonald-s-canada-celebrates-its-27th-mchappy-day-r–892966146.html