Predictive Success Invited to Elite Globe and Mail 2019 Growth Camp
Canada's Top Growing Companies
Predictive Success was honoured to attend the 2019 Globe and Mail Growth Camp, an invite-only full day event open only to the top 400 fastest growing businesses in Canada.
The event featured C-Suite executives from the most elite companies in Canada, with the goal of "equipping these elite leaders with the connections, advice and inspiration they need to sustain and deepen their success, in an interactive, constructive and lively environment."
Predictive Success Talent Optimization Specialist Jeff MacLeod attended the event at the Globe and Mail Centre in Toronto, ON. Canadian sports icon Haley Wickenheiser was at the event to speak to the room of top leaders.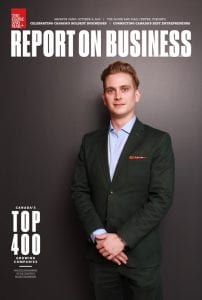 One of the largest themes of the event was the growing importance of human capital for growth, risk-aversion, and company culture. Top leaders worldwide are increasingly identifying this as an important factor to the future of their companies.
To see how you can optimize your human capital using science-backed insights, visit www.talentoptimization.org, or email Lauren Danes at ldanes@predictivesuccess for more information on talent optimization.