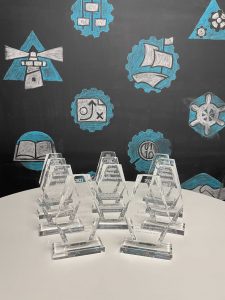 WHITBY, July 09, 2021 — Predictive Success Corporation is a workforce analytics powerhouse headquartered in Whitby, ON with 600+ clients serviced across Canada. Our Global Best Practice platforms solve people's challenges for clients of all sizes, across all industries. The winners of the Business Innovation award were announced during a special rewards ceremony at our annual Predictive Success Offsite Retreat.
The Predictive Index motto is "Better Work, Better World". Our team at Predictive Success has ridiculous expectations for growth and client success. We win more business than any other Predictive Index partner globally due to our passion for the client's world and our motto to get "stuff done" each day. Each year we give out Business Innovation Awards to recognize organizations who have demonstrated exemplary innovation and elevated their business with Predictive Success.
Business Innovation Award Winners
Rob Hruby | Weston Forest Group nominated by David Lahey
Weston Forest is a vital, dynamic organization, acknowledged by the Canadian Business Growth 500 as one of Canada's Fastest-Growing Companies, and acts as Canada's leading distributor of softwood, hardwood, and specialty panel products.
Ali Khoja | Shiplake Properties nominated by Jennifer Lahey
In creating homes for people, Shiplake considers every detail, applies lessons from the hospitality industry and creates spaces and events that bring communities together. We're always thinking of ways to evolve and elevate the residential experience, recognizing that a home is not just somewhere to live—it's a place to enjoy.
Katie Clarke | The Marketing Store nominated by Rob Friday
The Marketing Store is a creative agency, strategic consultancy, data partner and technology provider combined. We deliver next-generation brand experiences, custom technology solutions, and products that captivate, engage and spark action among customers.
Lester Wood | BioVectra nominated by Dave Osborne
We are a forward-thinking, North American CDMO Pharmaceutical company specializing in clinical-to-commercial scale production. In fact, we thrive on the vexing challenges few CDMOs would have either the expertise or desire to address. Bold vision, along with the passion and commitment to make that vision reality, is at the heart of our organization.
Jacqueline Long | Town of Whitby nominated by Mitch LePage
Whether you're a lifelong resident or planning a move to Whitby, we have a variety of community services and programs available.
Reygan Hale | Ratesdotca Group Ltd. nominated by Stephen Flower
Shopping for insurance and financial services is never fun but we make it easy. With simple, flexible online tools that let you search the entire market, you can compare the best rates on insurance, mortgages, credit cards, and personal banking products in Canada.
Processia | nominated by Martin Foster
With over 300 passionate & multicultural professionals across 9 countries, Processia developed a comprehensive and pragmatic framework to deliver the maximum value to its clients by providing strategic roadmaps and target operating model definition, platform implementation and upgrade, quality assurance, service transition, organizational change management and maintenance.
Vancouver Fire and Radius Security | nominated by Doug McCann
Vancouver Fire is B.C.'s largest and oldest fire protection, fire safety, and commercial security company. Whether you need a fire extinguisher inspection for your office or a fire safety plan for your manufacturing plants, you can trust us for all your fire protection needs.
Responsive Group | nominated by Jason Taylor
We are a recognized leader in managing senior living environments. Our commitment to excellence continues to ensure our role as creators of practical and innovative processes, programs, and partnerships. We are known for our hands-on approach, which has resulted in the development of reliable processes and time-proven solutions to difficult challenges.
Connon Nurseries | nominated by Rich Huisman
They are a supplier of high-quality nursery stock and hard-goods-related gardening products to the end-user; to both the public and to the wholesale market. Our emphasis on remaining a one-stop supplier, with fast, professional service for the professional gardener continues today, and we anticipate for many generations to come.
A great year thanks to…
As we wrap up our 15th year in the PI business, we are excited to have had of one our best years despite COVID and several provinces in total lockdown. We would like to thank all of our clients for making this year possible for us.
Unsure of where to start in aligning your business strategy to your talent strategy? Find out how we can help here.