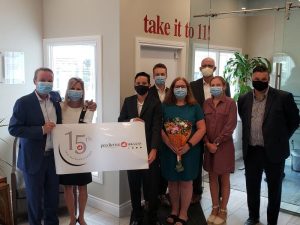 Predictive Success Foundation has been proudly giving back to the communities we serve for the past 15 years, and we are committed to continue doing so. Our belief in direct-to-source donation is our key foundational element.
Predictive Success is a community of driven and innovative employees. "Work hard, play hard" is the way we function. We are passionate about talent optimization a.k.a. enabling individuals to become the best version of themselves. This goes hand in hand with the health, research, and education initiatives we support. Although we have had tremendous growth, we come from humble roots, the small town of Whitby, Ontario. We recognize the privilege we have being part of a wonderful business environment here in North America. All our employees are empowered and encouraged to find causes that they are passionate about. We are committed to impacting and inspiring our community and beyond.
To date, Predictive Success has donated over $500,000 in cash and another $200,000 in services in kind to our local community, non-profits, and we even partner with organizations that share our values.
How Exactly Do We Contribute?
We generously give our talent, time, and funds to our local communities and beyond. From hosting charity fundraisers to our annual turkey donations and even donating to causes that affect families worldwide.
In Our Local Community
St. Vincent's Kitchen, part of Durham Outlook, served its first meal on October 15, 1990, and has been delivering fresh meals to those in need 365 days a year ever since. The kitchen serves between 150-200 meals a day and over 1.4 million since opening. Located in our neighboring town, Oshawa, our team annually volunteers and prepares a meal (and does the clean up) at St. Vincent's Kitchen.
Holy Family Catholic Church is located in our hometown, Whitby, Ontario. Their mission revolves around loving God, loving others, and making disciples. Predictive Success Foundation donated funds to aid in a new building addition this past year.
Princess Margaret Cancer Centre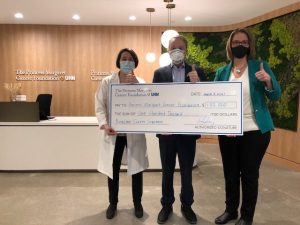 Princess Margaret sees over 1,000 patients every day and has the capacity to deliver diagnostic, treatment, and follow-up care to close to 200,000 patients and their families every year. Through ongoing research, education, and innovation, Princess Margaret continues to be on the frontiers of medical, surgical, and radiation oncology, embracing the latest technology and international best practices and setting standards for patient care. Research and funding for immunotherapy and specifically throat cancer discovery research is a cause close to the Lahey family's hearts.
Ronald McDonald House Charities
Ronald McDonald House Charities believes in keeping families close. They give families a place to stay together; close to their sick child in the hospital because when families stay together, sick children get stronger. The Predictive Success Foundation fundraising team led by Jennifer Lahey, Managing Principal, dedicates time and resources to drive awareness to this great cause and raise much-needed funds to ensure the vitality and growth of this program. In fact, since joining this program in 2016, our team at Predictive Success has been the leading corporate fundraising group.
Other Partners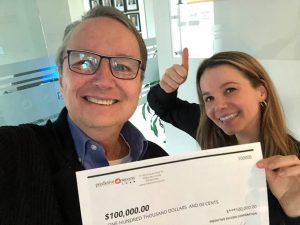 Hamilton College was founded in 1793 as the Hamilton-Oneida Academy; chartered in 1812 as Hamilton College; it is the third oldest college established in New York State. Predictive Success Foundation donated $100,000 to Hamilton College, our President and CEO's alma mater. This donation will be launching the David S. Lahey Scholarship Fund that will support incoming students to the college.
Chalice, an international Catholic aid charity for child, family, and community development. They work closely with missionaries and communities to provide care for numerous children and families experiencing poverty. Children and elders are selected for the sponsorship based on need and family circumstances, regardless of race, age, ability, gender, or religion.
We sponsor 7 children across numerous sponsor sites including locations in Haiti, Kenya, India, Tanzania, Zambia, and Paraguay. The key initiatives we donate to are education, including funding transportation to and from school, books, school uniforms, as well as support and workshops for families and high school graduates who wish to pursue post-secondary education.
Plan International
Plan International Canada is a member of a global organization dedicated to advancing children's rights and equality for girls. Predictive Success has donated a herd of goats to a family in Cameroon. This gift helps over 6,600 women build booming businesses to gain economic power and equal footing in the community. Their farms that flourish as a result of this gift will feed and finance their children's growth and help them take the steps to overcome poverty and keep their girls healthy and in school where they should be.
These are just some of the initiatives we have supported. If you are interested in learning more about the other communities we give back to, click here.
If you'd like more information on how you can also support and/or donate to these initiatives, click here.