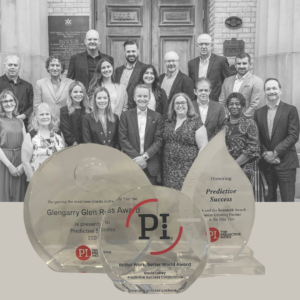 Recognizing Predictive Success: #1 Globally in Predictive Index Total Revenues/Sales
Predictive Success has been recognized with several awards from the Predictive Index for its recent success in expanding its clientele and demonstrating outstanding leadership. These awards were given from Mr. Rabih Shanshiry the VP of Partner Success of Predictive Index LLC Boston. These awards reflect the company's commitment to delivering innovative solutions that help organizations improve their workforce's performance and productivity.
Additionally, Predictive Success has been acknowledged for its exceptional leadership by David Lahey the founder and CEO, who has been instrumental in driving the company's growth and success. The awards are a testament to Predictive Success's achievement in being the number 1 globally in both new business and total revenues out of 450 Predictive Index agents. This is also the third straight year Predictive Success has won the #1 award for total new accounts secured in one year.
1) Better Work, Better World Award
The Better Work, Better World award recognizes Predictive Success's commitment to creating a more productive workplace. The award highlights how strong leadership has enabled the company to achieve significant growth while staying true to its core values and mission.
2) Jack and the Beanstalk Award
The Jack and the Beanstalk award is a testament to Predictive Success's impressive growth and success as the fastest-growing partner in the Elite tier. The award recognizes the company's outstanding performance in driving revenue growth and expanding its customer base.
3) Glengarry Glen Ross Award
The Glengarry Glen Ross award is a significant recognition of Predictive Success's outstanding achievement in gaining the newest clients in the Elite tier. This award highlights the company's exceptional sales performance and its ability to deliver value to clients through its predictive analytics platform.
Closing Thoughts
Predictive Success Corporation has earned a reputation for innovation and excellence. Through its suite of products and services, the company has helped numerous clients across industries to optimize their workforce and achieve their business goals. Our company currently operates in every province across Canada, with notable success in Quebec, thanks to the leadership of our VP Martin Foster, based in Drummondville. We are proud to serve our clients in both official languages.
Predictive Success takes great pride in being the leading provider of data analytics to its clients. We are pleased to have the most million-dollar producers  in the entire network, which is a testament to our team's commitment to excellence:
Our team continues to innovate and evolve our solutions to meet the needs of our clients and remain at the forefront of the industry.
About Predictive Success
Predictive Success empowers leaders to optimize workforce performance through proven talent management methodologies, high-performing team-building technology, and collected employee or potential candidate data. To learn more about how you can work with our team, please contact us today.