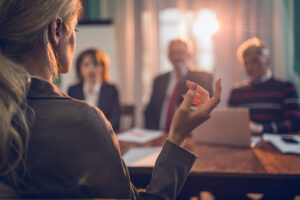 In times of economic hardship, when talent is becoming increasingly difficult to find and maintain, organizations must be devoted to improving their HR practices. Properly managing talent plays a vital role in an organization's success and long-term sustainability. Through focusing on talent management, organizations will see an increase in employee engagement, higher productivity and ultimately a better bottom line.
Role of Talent Management
Talent management is a broad discipline that encompasses many activities. Let's highlight three main areas that encompass the role of talent management.
1) Workforce Planning & Recruitment
Talent management begins with identifying the organization's current and future talent needs.
We need to analyze skills, competencies and experience required for various roles within the organization. Workforce planning helps determine the quantity and quality of talent needed.
2) Talent Acquisition and Onboarding
Talent management involves implementing efficient recruitment processes to acquire the best candidates.

The Predictive Index® as delivered by founding partner Predictive Success helps to automate this process.
Using our job assessment, you can easily obtain valuable input from stakeholders to create a job target. This job target is composed of behavioural requirements as well as a cognitive benchmark. With The Predictive Index® as delivered by founding partner Predictive Success, you can quickly screen through candidates and find persons who are naturally inclined to succeed at your available role.
3) Performance Management
Talent management involves developing clear performance expectations, setting career goals, providing constant feedback and regular performance reviews.
Its important for employees to know their strengths and weaknesses. Fostering an environment of development is necessary for employees to become engaged and for organizations to maintain consistent growth.
The Purpose of Talent Management
Simply speaking, the purpose of talent management is "to ensure the organization has the talent it needs to grow and succeed". It spans from attracting, engaging, developing to retaining employees. Key goals in talent management are to enable high performance and enhance employee experience and well-being.
Attract
Gone are the days where the onus is on the employee to create the employee-employer relationship. We are no longer in a job shortage, but a talent shortage.
Positions are in high demand, but talent is in low supply, this intersection results in a difficult recruiting scenario.
To best attract employees, organizations need to set clear expectations for jobs, pay well and offer flexible arrangements. Younger generations are valuing learning opportunities and flexibility as more important than higher pay.
Having an efficient recruitment process will also assist organizations to obtain younger talent.

The Predictive Index® as delivered by founding partner Predictive Success generates a structure interview guide so questions are not repeated and so the interviewer can focus on important aspects.
Engage & Develop
Employee engagement refers to the emotional and psychological connection that employees have with their work. It measures commitment, motivation and enthusiasm employees have toward their jobs. Engaged employees love what they do, who they do it with and genuinely care about the organization's overall success. Key characteristics of employee engagement include:
Emotional connection: employees have a sense of pride and enjoyment in what they do.
Motivation & Initiative: engaged employees take initiative in their work, they are proactive and happy to take on new challenges.
Open communication: employees that are engaged are likely to communicate openly, express their opinions and share ideas.
Employee development refers to the process of enhancing the knowledge, skills, abilities, and competencies of employees to improve their performance, enable career growth and support organizational success. It involves providing learning opportunities, training, and networking events to help employees grow and reach their full potential. Some key aspects of employee development are…
Skills enhancement: upskilling employees is becoming more popular and an overall better resort than hiring new talent.
Succession planning and leadership development: employee development plays a critical role in preparing future leaders within the organization. Succession planning helps ensure smooth transitions and minimizes disruptions when positions become vacant.
Retaining Employees
A combination of the above aspects and a commitment to being updated on best practices will help organizations retain employees. Now more than ever, organizations are struggling to retain employees. The workforce is displaying low levels of organizational commitment and pay is becoming less of a motivator. Organizations should be committed to viewing their talent as more than employees and develop meaningful relationships. Here are a few strategies to retain employees…
Ensure competitive pay: a primary goal for one's job is to ensure they can provide for themselves or their family. Be certain your employees are sufficiently compensated so they're motivated to keep their jobs.
Provide flexible working arrangements: employees value flexibility almost equal to pay
Increase training opportunities: employees don't want to feel stagnant at their job. Additional training opportunities help employees develop new skills and makes them feel valued.
Promote internal talent: Promoting internal talent is an easy way to increase workplace morale. It sends the message that people who work hard and achieve results are rewarded.

Important Statistics
51% of people agree flexibility would impact whether they stay at an organization (2021 Gartner Hybrid Employee Survey).
85% of people place high importance on their organization seeing them as a person and not just an employee (2021 Gartner Candidate Survey)
75% of employees want to spend more time on their personal lives (Gartner's 2022 New Talent Landscape and Career Pathing Survey)
68% of employees want to find purpose beyond work (Gartner's 2022 New Talent Landscape and Career Pathing Survey).
References
Alancheril, J., Armstrong, K., Jackson, S., Lawrence, T., Ogawa, C., Shepp, J., Stechschulte, N., Tuzel, S. S., & Wiest, S. (2023, April). Talent Management Today. HR Leaders Monthly.