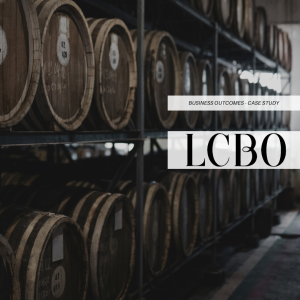 Introduction
In the world of talent acquisition, one often encounters challenges that are as intricate as they are critical. For Paul Hamilton, Director of Talent Acquisition at the Liquor Control Board of Ontario (LCBO), the need to harmonize talent with organizational values and culture was paramount. LCBO sought to streamline their recruitment process to align with these values while reducing costs and improving hiring rates.
Paul's journey towards a more efficient and effective hiring process led to a remarkable transformation in LCBO's talent acquisition. In collaboration with Predictive Success and The Predictive Index System®, LCBO achieved a remarkable 62.5% reduction in the cost to hire and significant improvements in their time-to-hire. Let's delve into this case study to understand how Paul Hamilton's innovative approach yielded impressive results.
The LCBO: A Brief Overview
The Liquor Control Board of Ontario (LCBO) is a government-owned organization established in 1927, responsible for the sale and distribution of alcoholic beverages in the province of Ontario, Canada. With a network of retail stores, LCBO emphasizes responsible consumption, a wide range of product offerings, and generating revenue for public services while supporting local producers.
The Challenge
Paul Hamilton understood the significance of aligning talent with the company's values and culture. However, he also recognized the intricacies of assessing whether candidates resonated with these values. The challenge was compounded by the often-found disparity between a job profile and its corresponding advertisement. This inconsistency not only affected the quality of candidates but also led to a prolonged time-to-hire period.
In the highly competitive retail industry, where proficient candidates are in high demand, the need for a streamlined and objective recruitment process became evident. Paul saw the necessity for a solution that was user-friendly and could be easily implemented across the entire organization.
The Solution
Paul Hamilton's primary focus was on utilizing The Predictive Index System® as delivered by Founding Partner Predictive Success for effective talent acquisition at LCBO. This system helped the LCBO Talent Acquisition team in selecting candidates who aligned behaviorally with the role and company culture.
The Predictive Index System® as delivered by Founding Partner Predictive Success brought about significant improvements in LCBO's recruitment process:
Reduction in Cost to Hire:
LCBO saw a remarkable reduction in their cost to hire, down from $400 to $150. By aligning candidate behavior with job requirements, the company was able to save valuable resources.
Streamlined Time-to-Hire:
The software helped expedite the recruitment process, ensuring that the right candidates were identified more quickly, thus reducing the time-to-hire.
Creating Targeted Job Ads:
By leveraging the insights provided by The Predictive Index System® as delivered by Founding Partner Predictive Success, LCBO started creating more targeted job advertisements. This precision led to a significant reduction in the number of applicants, from 19,000 to 9,000, while improving the hiring rate substantially
Closing Thoughts
The collaboration between LCBO, Paul Hamilton, Predictive Success, and The Predictive Index System® demonstrates the power of data-driven, behavioral assessments in improving talent acquisition. By focusing on aligning candidates with the company's values and culture, LCBO achieved a remarkable 37.5% reduction in their cost to hire and a streamlined time-to-hire process. This case study serves as a shining example of how innovative solutions can bring about tangible improvements in recruitment processes, ultimately contributing to a more successful and efficient organization.
As the director of talent acquisition at LCBO, Paul Hamilton's commitment to finding a user-friendly and easily implementable solution has not only saved the company valuable resources but has also significantly improved the quality of talent brought on board. This success story showcases the importance of considering the alignment of behavior and values in the hiring process and offers valuable lessons for organizations seeking to optimize their talent acquisition practices.
About Predictive Success
Predictive Success empowers leaders to optimize workforce performance through proven talent management methodologies, high-performing team-building technology and collected employee or potential candidate data. To learn more about how you can work with our team, please contact us today.