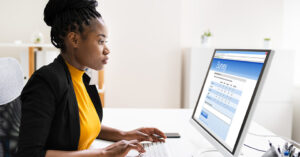 Conducting employee experience surveys has been a common concept in workplaces for the past decade. The surveys are high-performance HR practices that help boost the overall performance of a business. Companies are now moving forward and using the common practice in a more scientific approach through machine learning, to determine employee engagement. Incorporating engagement surveys will provide companies with an insider perspective on employees' opinions and empower them to keep employees happy and engaged.
Giving Employees a Voice
If a company promotes regular engagement surveys for their employees, it shows, that the company values the opinions of the workers. The act of going through and filling out a survey gives the employees a specific channel to feel heard and voice their concerns. Choosing to use engagement surveys will give your employees a voice. This will ultimately help the company because having an engaged workforce promotes a cohesive workspace and positive company culture that will fundamentally lead to further productivity.
How can diagnosing employee engagement help your Business?
Having an engaged workforce will allow companies to use real-time analytics to achieve meaningful change. The PI Employee Experience Survey gives companies engagement data with a personalized action plan to tackle the pain points that have been identified in the surveys. This can help a business grow from the constructive feedback and overview of the issues that employees face. Predictive Index Diagnose Employee Engagement Survey TM addresses four main areas in the organization:
Job Fit:
Engagement surveys can indicate whether a person's behaviour patterns align with the proposed behaviours of the role. Helping businesses make the right choice when recruiting.
Manager Impact:
To avoid misunderstanding and tension between managers and direct reports, it's essential to view their engagement surveys. Analyzing the reports will indicate what works and what doesn't.
Culture:
Constructing an authentic company culture is important because it's reflective of the workforce. The employees want to join a team that has a positive company culture and one that is thoughtful of its employees. The surveys provide businesses with the employee perspective on what needs to be altered and improved to have a better working environment.
Team Dynamics:
Understanding team dynamics can go a long way with engagement surveys. The survey can help identify the strengths and weakness of various group members and it provides data that can help business create an optimized team to promote productivity.
Closing Thoughts
Technology is advancing and so is the workplace, its important for companies to step it-up and take initiative in promoting employee engagement using The PI Employee Experience Survey
About Predictive Success
Predictive Success empowers leaders to optimize workforce performance through proven talent management methodologies, high-performing team building technology, and collected employee or potential candidate data. To learn more about how you can work with our team, please contact us today.