Building Culture Through a Business Book Club.
The rise of culture
Culture building in the 21st century has taken the world by storm. In July, 2019 Predictive Success' Thomas MacIntosh and Matthias Jang wrote an entire book on how elite companies worldwide are creating cultural championships within the walls of their office, (The Journey to Cultural Championship: Creating a passionate, driven, and high-performing team, 2019). It's interesting however that the biggest part of the word, 'cultural championship,' isn't culture. It's the word 'championship.'
A cultural championship means building a business that:
Performs at an elite level.
Is full of high-performing, engaged, and driven business leaders. From owner to intern.
Has a succession plan that will ensure it retains its dominance for years to come.
And possibly one of the most important aspects:
Has a company culture of what we call reciprocal-growth.
Reciprocal-growth means that employees of the company actively work to make each other better, are committed to a mutually-held vision, and are following the same road to achieve it. There is an aura of being in the same boat, and on the same journey. The same team.
Companies achieve this in a variety of ways, often incurring a lot of cost to do so. Company team-building retreats and seminars seem to be some of the top 'Go-Tos.' The base point behind all of these however, is the same; to connect members of a team around one commonality, to inspire them to be better in their business, and to create ideas that will drive the future of the business.
One of the greatest sources of business growth can come from reading books written by experts on specific areas teams want to improve in. It's why the reading habits of the top-CEOs and leaders of the world are so well known.
– Warren Buffet spends 80% of his day reading.
– Bill Gates reads a book a week.
– Mark Cuban reads four to five hours a day.
This probably isn't a coincidence. Reading books isn't only a great way to absorb information, it can be a great source of inspiration and energy for business leaders, entrepreneurs, and employees alike.
On top of this, reading books can also be an amazing way to bring together the members of your team. A business book club, much the same as any other book club, is pleasurable, intellectually stimulating, and engaging way to grow individually, and as a team. It helps teams to find new ideas, debate the legitimacy of these actions, and put them in to use when developing the future strategies of the company.
_________________________________________________
Case Study:
At Predictive Success, we have a "Better Business Book Club." Simply enough, each month, we read a book on leadership, business growth, consulting, or sales. Everyone can choose how they want to receive the book, (hardcopy, E-Book, audiobook, etc.) and will read it before our monthly all-team meeting. It not only makes us better at what we do, it connects us, an especially important aspect given how far apart some of our consultants are across Canada and the United States. It is just one of the ways we all stay connected. At the end of the year, when we come together for our annual offsite, it's like a group of friends coming together to look at the year ahead. We can connect over insights from the book, ideas we had, and discuss new strategies. An inexpensive connection point between consultants 4,000 km apart.
__________________________________________________
Putting this sort of program in to place is reasonably inexpensive and easy to manage. Team members can submit business books they've read that really spoke to them and are relevant to the business. One individual can compile the top books into a 12 month list and send it to the rest of the team. E-Book gift cards can be purchased by the company from an E-Book provider like Kobo, Audible subscriptions can be created, and for those who prefer old school; paperbacks can be purchased.
Many top business leaders also publish their reading lists for a year, or top books they have read. A lot of these books don't even focus specifically on business, but can still be influential on personal development, contextual understanding, and general knowledge wealth. For example, Bill Gate's top five books for 2018/2019 are: [1]
Upheaval by Jared Diamond.
Nine Pints by Rose George.
A Gentleman in Moscow by Amor Towles.
President of War by Michael Beschloss
The Future of Capitalism by Paul Collier.
The key to the program is to bring up the book at a designated time every month. This not only holds the team to account on reading but provides a space for the feedback necessary to make the books effective. The best time to do something like this is during your office's monthly all-team meeting, or online over conference software like Zoom.
If you truly have an elite company, including books written by team members is an even better way to put everyone on the same page, explore the ideas of top leaders in depth, and inspire new team members to write books of their own.
At Predictive Success, we send copies of books written by team members to everyone in the company. It helps us to stay on the same page, and inspires everyone to write, create, and continue to put ourselves out there.
It was hearing about the management ideas in our President, David Lahey's, first book Predicting Success: How to become the best boss, that gave me the inspiration to write my first book. In 2019 and 2020, our team of 30 put out three new books.
From Hire to Inspire: How to become the best boss, by David Lahey. The book explores the 21st century link between analytics and management, and uses case studies from David's 25 years of management to paint a picture of what the best bosses of the world do.
Talent Optimizer: Why some companies always get great people, by Rob Friday. This book rocketed to the top of multiple Amazon business bestsellers lists, and gives company's strategies for talent management, increasing top tier talent in the company, and managing talent to perform.
The Journey to Cultural Championship: Crating a passionate, driven, and high-performing team, by Thomas MacIntosh and Matthias Jang. This book looks at the future of business from the point of view of Generation Z, and is one of the only books on the market researched and written by two business students under 21 years old.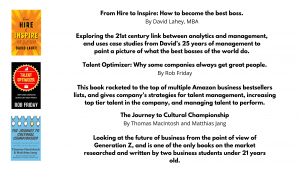 In 2020, there are at least three new books our team is looking to write, helping to increase our cultural championship and spread our ideas to the team, industry, and business world.
To implement this program, send out an email looking for recommendations, a Google form for receiving preferred methods of reading, and begin compiling your list. A team building heaven, in under a week.
Creating culture from the get go.
At Predictive Success, we work with companies to build a deliberate hiring strategy that focuses on hiring the right people, and inspiring them to become the next leaders of the company, with data and analytics backed by 50+ years of behavioural science. To find out more, and to get a free hire on us using our system, email Lauren Danes at ldanes@predictivesuccess.com or call (905) 430 – 9788 x 105.
Sources:
[1] Gates, Bill. "Looking for a Summer Read? Try One of These 5 Books." gatesnotes.com. Accessed October 14, 2019. https://www.gatesnotes.com/About-Bill-Gates/Summer-Books-2019.