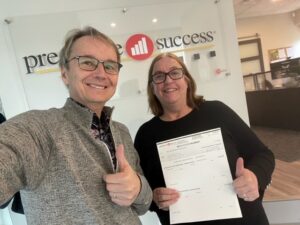 Predictive Success Gives Back: Supporting ShareLife
At Predictive Success, we believe that giving back to the community is not only a responsibility, but an opportunity to make a positive impact on the world around us. That's why we're thrilled to announce that on behalf of Predictive Success, our founder, and CEO, David Lahey, recently donated $2000 to Share Life Campaign Holy Family Catholic Church to support their mission of providing aid to marginalized individuals and communities in need.
About ShareLife & Holy Family Catholic
ShareLife is a Toronto-based charity focused on supporting agencies that carry out the mission work of the church. They aim to serve marginalized persons in local communities and around the world. Their mission is to "live the Gospel by providing for those in need". ShareLife supports Holy Family Catholic which is in Whitby Ontario.
Why Donate
It's important to take a step back and appreciate our privilege and blessings. At Predictive Success, we value aiding the less fortunate and building strong community bonds. One of our missions is to support the communities we serve by aiding in health, research, and education initiatives. Our belief in direct-to-source donations is key to our foundation of giving.  In addition to the positive impact on the community, giving back is personally rewarding. It gives us a sense of purpose and fulfillment while developing relationships. Furthermore, it provides opportunities to learn about different cultures and values which broadens our perspectives and helps us become more open-minded and compassionate. To conclude, giving back to the community is important because it creates a better world for everyone. It allows us to make a positive impact on the lives of those around us while enriching our own lives in meaningful ways. By working together and supporting each other, we can create a stronger and more vibrant community that we can all be proud to call home. We urge you to join us in making a difference.
About Predictive Success
Predictive Success empowers leaders to optimize workforce performance through proven talent management methodologies, high-performing team-building technology and collected employee or potential candidate data. To learn more about how you can work with our team, please contact us today.