The Books That Should be on Your 2020 Reading List
A roundup of the top books our team recommends to managers at all levels.  
Leaders Eat Last by Simon Sinek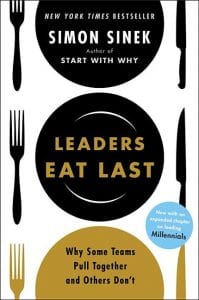 Simon Sinek is arguably one of the top thought leaders in the world on the topics of organizational behaviour, generational management, and leadership. What makes Sinek's writing so powerful is the fact that he takes it back to a biological level. Each argument for leadership methods is supported by genuine human science and evolution.
Leaders Eat Last separates itself from the plethora of other leadership books because of the exact tactics Sinek outlines in the book. By appealing to the reader's sense of reason with facts and genuine x=y conclusions, instead of relying on purely a "I am a thought-leader and what I say if fact," you can't help but agree with the conclusions he makes.
What pushes the book to a new level is the connections to real life events. This creates a x=y=reality formula that is difficult to disagree with.
Read for: Genuine management philosophies.
The 10X Rule by Grant Cardone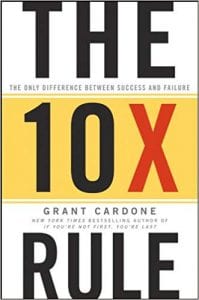 A great book to get your 2020 going. Cardone's ideas on work and life are meant to be a practical framework for getting more done. However, Cardone's passion takes over, and the book becomes a manifesto for the productivity lover.
Cardone echo's the sentiment of some of the world's top CEOs with his ideas on work and life. In summary, don't think…act. Make time for family. Set big goals. The book fills in the gaps on how to do just that.
Read for: Sales and pure-shot inspiration
Zero to One by Peter Thiel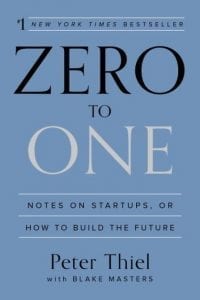 Known for his incredible investing poruwas, Thiel became a celebrity for his work building PayPal, investing in Facebook, and creating one the world's top-valued venture capital funds in the Founders Fund. Thiel's book researches and explore
Read for: Stories of entrepreneurship
Principles by Ray Dalio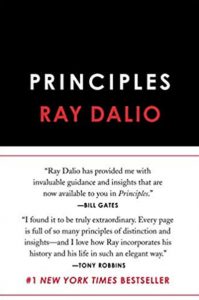 Bridgewater Investments is easily one of the world's top business cultures. Before "Company Culture" was even a word the business community was remotely thinking about, Dalio was creating a culture of "radical openness." This concept created a company culture purely focused on performance and teamwork. Before people-analytics became a standard, Bridgewater was creating their own version in-house, using "baseball cards," to give employees a quick overview of how to best interact with each other. (Side note, The Predictive Index offers a similar function with their placards, click here to get yours).
Principles is part biography, part blueprint. A fantastic 2020 read for managers at any organization.
Read for: Company Culture
Out in March, 2020:
From Hire to Inspire by David Lahey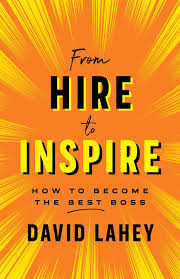 Lahey's newest book builds on the success of his last, "Predicting Success: Evidence based strategies to hire the right people and build the best team."
From the book: North Americans work 90,000 hours in their lifetime. Wouldn't they enjoy working in a job they love, with a boss who energizes them? David Lahey's From Hire to Inspire can help make that happen. With advice for all types of companies, From Hire to Inspire is a road map to becoming a better boss ― maybe even the best boss ― and to helping your employees achieve their potential.
Using a new set of behavioral science analytics, Lahey shows you how to determine what types of work different people will find fulfilling. When leaders use these principles to put the right people in the right positions at the right time, employees spend less energy adapting, their engagement levels improve, and they are less absent at work, which results in an increase in productivity and lower accident levels.
Set your employees up for success in both work and life by learning how to adapt to a changing workplace, the science of decision making, how to coax the most from a millennial workforce, the influence social media has on a culture, how to maintain a respectful environment where leaders can flourish, and more.
To learn more about data and analytics for your team in 2020, click here.
<a href="https://www.freepik.com/free-photos-vectors/school">School vector created by macrovector – www.freepik.com</a>