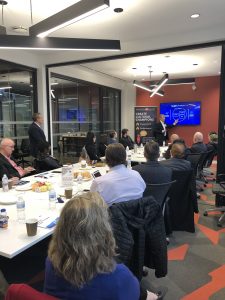 The Hybrid Workplace, the newest organizational work model that has employers and employees hopeful (that this pandemic is almost over) yet filled with uncertainty and doubt about the future of work. The Hybrid Work model has gained popularity as we all recover from the (ongoing) pandemic and attempt to redefine our workplaces.  There are organizations that are embracing this model while others rush to return to their workplaces turning their back on the traumatic experience that we all just lived through. There was a lot that was learned last year and moving forward, it will be a critical time to implement some of the better practices we have learned. There are pros and cons to the virtual and office environment. The future way of work, the hybrid work model is how we can all meet in the middle and take advantage of this opportunity to construct a new business world based on flexibility and accessibility.
Challenges are Inherent to Hybrid Work
In order to get the most out of this work approach, Lance Robbins, an international remote work consultant, shares an insight that we must all pay attention to, "the most common hybrid policy rollout mistakes that I see companies make fall into three categories: messaging, templatizing, or discrimination". Robbins explains that "'messaging,' is when the company leadership doesn't inform the workforce about the mutual benefits of the workplace change. The second, "templatizing" refers to the habit of change management teams to browse for remote work best practices online. Finally, discrimination is an unfortunately common mistake in many historical case studies of hybrid teams."
3 Ways to Combat Hybrid Rollout Mistakes
Planning for Hybrid Work
Planning will be a huge initial investment of time that will later give you a notable ROI in efficiency and productivity. It is critical to invest as much time and attention as possible into equipping your workforce with tools and skills necessary for higher autonomy. Give your employees a say in the creation and enforcement of your remote work policy terms through focus groups or surveys to avoid surprises and complaints. Robbins suggests designing a workplace selection guide that outlines which type of work environment should be used for certain types of tasks and making sure that all team members are equally accountable for being on-site or off-site at the designated times. If it's a question of innovation, creative teams should work in the workplace at the same time. If the organization is concerned about cultural erosion, it should consider the teams that drive and promote the culture; keep them in mind as they innovate new ways to foster this in a hybrid workplace.
Equalize Employee Experience
Research shows that remote workers tend to suffer from their distance from the office. We know that "showing your face" at work matters. Remote workers might also end up being excluded from critical decision-making and social aspects. Training managers on how to equalize and measure performance equally and fairly between workers in a variety of locations and time zones will be crucial. Understanding your employees from afar will require tools such as the PI Software. Organizations must update their current policies on information accessibility, colleague visibility, and employment benefits so that they are mutually beneficial for both on-site and off-site workers. To avoid bias, it's critical to recognize the possibility for bias among remote workers, this will require a concerted effort on both the leadership and technology fronts.
Effective Communication
The way we communicate is constantly evolving, the pandemic has allowed innovation on the technology front and allowed us to reach anyone from anywhere. We must take advantage of this innovation in the hybrid work world by having strategic communication processes in place about performance expectations, workflows, reporting structures, or communication schedules. All employees in the organization will need to be notified how this change will impact them and how team members will be required to accommodate when colleagues are working remotely. With this hybrid-work mode, the "buzz" around the office will look different. To promote/create this buzz in a hybrid world, leadership will need to create clear and consistent communication channels to effectively convey change management information, such as FAQs, policy terms, or training resource links. For some best practices on communicating no matter where you're working from take a look at the Predictive Index Complete Hybrid Team Communication Guide.
References
Dube, J. "3 best practices when moving to a hybrid work model." The Predictive Index, 2021, July 27. Retrieved from https://www.predictiveindex.com/blog/hybrid-work-model/.
Farrer, Laurel. "5 Tips To Optimize The Success Of Your Hybrid Return To Office Plan." Forbes, Forbes Magazine, 2021, April 14. Retrieved from www.forbes.com/sites/laurelfarrer/2021/04/14/5-tips-to-optimize-the-success-of-your-hybrid-return-to-office-plan/?sh=5affaf613ab7.